HOUSE OF MELANCHOLIA FESTIVAL 2015: il festival dedicato alla musica sperimentale italiana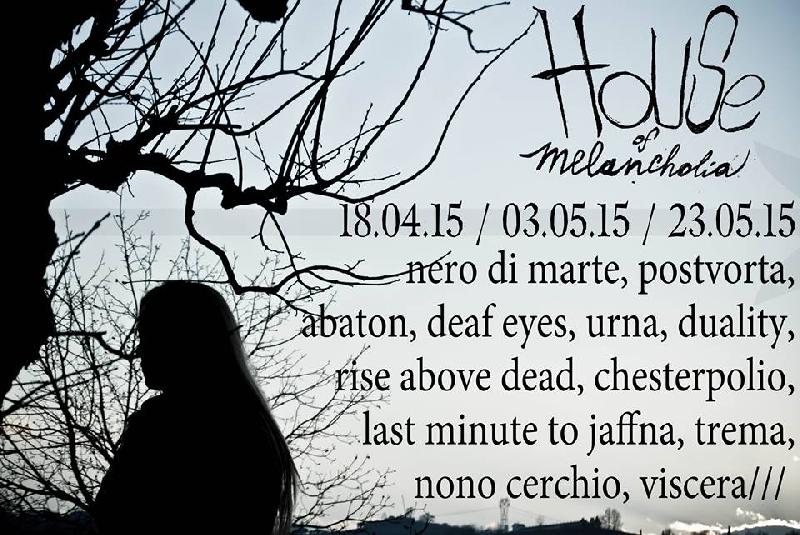 Grind On The Road Booking & Promotion è lieta di presentare:
HOUSE OF MELANCHOLIA 2015
18 aprile / 3 maggio / 23 maggio
Sidro Club, Savignano sul Rubicone (FC)
Via Antonello Moroni 92
18 aprile
Nero di Marte
Deaf Eyes
Duality
Nono Cerchio
3 maggio
Chesterpolio
Last Minute To Jaffna
Postvorta
Trema
23 maggio
Viscera///
Abaton
Rise Above Dead
Urna
Quest'anno per l'HOUSE OF MELANCHOLIA, il nostro festival annuale dedicato alla musica sperimentale italiana, abbiamo deciso di fare le cose in grande. Nella sempre stimolante cornice del Sidro Club di Savignano sul Rubicone andrà in scena non più un festival, ma una vera e propria rassegna, divisa in tre diverse serate che si terranno tra aprile e maggio.
Gli headliner della prima serata, il 18 aprile, saranno i Nero di Marte, che dopo il sorprendente debutto omonimo sono tornati lo scorso anno sulle scene con Derivae, ancora una volta sotto Prosthetic Records, un disco che ha ulteriormente ampliato i loro orizzonti musicali consacrandoli come una band imprescindibile del panorama metal sperimentale internazionale. Con loro ci saranno i Deaf Eyes, progetto post metal strumentale con membri di Incoming Cerebral Overdrive, oltre che Duality e Nono Cerchio.
Il 3 maggio sarà una serata ancora più varia, adatta ai gusti più differenti: il math rock degli eroi locali Chesterpolio sarà il piatto principale, ma il menu presenta molto altro. Suoneranno infatti anche i Last Minute To Jaffna, una delle più originali post rock/metal band nostrane appena uscita con il nuovo album Volume II, e i Postvorta, post metal band romagnola comprendente membri di The End Of Six Thousand Years e Black Sound Empire. In apertura i Trema, che riporteranno sul palco il loro alternative rock dopo diversi mesi di pausa.
Il 23 maggio sarà una serata davvero speciale: Viscera/// e Abaton, oltre a suonare il proprio classico set, presenteranno l'EP Diadem(s), da poco uscito per Drown Within Records, nel quale tutti i membri delle due band si scambiano i ruoli e collaborano alla stesura ed esecuzione dei brani. Oltre a loro suoneranno i Rise Above Dead, che dopo aver recentemente pubblicato l'ottimo Heavy Gravity ci proporranno anche dal vivo la loro nuova versione di se stessi senza cantante, e Urna, one man band di culto nell'underground dedita al drone e all'ambient più sperimentale.
In occasione dell'House Of Melancholia 2015 vi proponiamo inoltre una formula pensata per chi vuole godersi il festival nella sua interezza: un biglietto unico al costo del 10€, ovvero il prezzo di due serate. Il prezzo in cassa per ognuna delle serate sarà invece di 5€. Vi segnaliamo inoltre che, come sempre, sarà possibile cenare al Sidro Club.
Vi aspettiamo.
18 APRILE - HOUSE OF MELANCHOLIA 2015 con NERO DI MARTE + DEAF EYES + DUALITY + NONO CERCHIO @ SIDRO CLUB
https://www.facebook.com/events/782206538519669/
3 MAGGIO - HOUSE OF MELANCHOLIA 2015 con CHESTERPOLIO + LAST MINUTE TO JAFFNA + POSTVORTA + TREMA @ SIDRO CLUB
https://www.facebook.com/events/1525186141075581/
23 MAGGIO - HOUSE OF MELANCHOLIA 2015 con VISCERA/// + ABATON + RISE ABOVE DEAD + URNA @ SIDRO CLUB
https://www.facebook.com/events/951850414832627
Inserita da:
Jerico
il 31.03.2015 - Letture:
1708
Articoli Correlati
Altre News di MetalWave
Notizia Precedente
Notizia Successiva