Violentor «Violentor» (2012)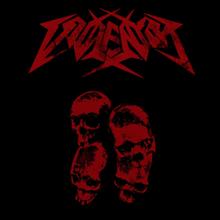 Autore:
carnival creation

»
Recensione Pubblicata il:
--
Visualizzazioni:
1895
Band:
Violentor




Titolo:
Violentor
Nazione:
Italia
Formazione:
Ale :: Vocals, Guitars
Rot 'n' Ricca :: Bass, Backing Vocals
Rashade :: Drums
Genere:
Durata:
29' 22"
Formato:
CD
Data di Uscita:
2012
Etichetta:
Distribuzione:
---
Agenzia di Promozione:
---
Recensione
Difficile non sentirsi letteralmente trasportati indietro di trent'anni mentre si ascolta l'omonimo debut-album dei toscani Violentor. Vengono in mente i tempi in cui il Rock 'n' Roll dei Motorhead aveva un'aria molto più originale di oggi, il Thrash Metal iniziava a gettare le basi per ciò che sarebbe diventato in futuro e l'aria becera e sporca dei Venom iniziava a farsi strada tra la scena ottenendo il successo meritato.
Con questi presupposti, l'ascolto di "Violentor" possiede già un suo punto di avvio sonoro che accompagna piacevolmente in questa mezzoretta scarsa di suono marcio, dalla tirata veloce mai eccessiva e dai riff che, saranno anche già sentiti mille volte, ma che vengono qui riprodotti fedelmente avvalendosi di una produzione ottimale che valorizza l'intera proposta dei nostri.
Un trio che suona con potenza è difficile che passi inosservato e di fatti i Violentor possedono anche il carisma necessario per poter far fronte ad una così difficile missione. Certamente non è possibile raggiungere l'apice dell'originalità ma non credo che alla band importi più di tanto. Suona proto-Thrash, guarda anche al vecchio Punk e strizza l'occhio al Rock e al Thrash 'n' Roll tipicamente vecchia scuola e fa tutto ciò in modo opportuno senza mai eccedere né fare risultare un sound costruito a tavolino o quantomeno spocchioso, niente di tutto questo.
"Violentor" è un disco onesto all'ennesima potenza che moltissime persone (me compreso) riusciranno ad apprezzare; è vero, bisogna prenderlo per quello che è, semplice e diretto, esplicito ma non presuntuoso, poco o per nulla tecnico ma adatto a generare un bel concerto se presentato in sede live, insomma, il debut album della band italiana è davvero una buona prova e un ottimo tributo, il resto delle inutili congetture lo lascio ai finti "premi Pulitzer" del giornalismo musicale.
Track by Track
Too Loud

70

Awakened In Death

70

My Stomach Strong And Fit

70

Genocide

65

We Hate All

75

Sycophant

70

Dismiss The Evil

75

F.Y.I.

70

Go To Hell

70
Giudizio Confezione
Qualità Audio:

75

Qualità Artwork:

60

Originalità:

65

Tecnica:

70
Recensione di
carnival creation

»
pubblicata il --. Articolo letto
1895
volte.
Articoli Correlati