Violentor «Violentor» (2011)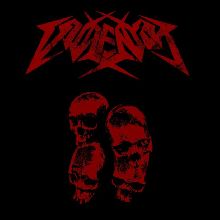 Autore:
June

»
Recensione Pubblicata il:
--
Visualizzazioni:
2032
Band:
Violentor




Titolo:
Violentor
Nazione:
Italia
Formazione:
Ale - guitar, vocals
Betta - guitar
Ricca - bass
Rasha - drums
Genere:
Durata:
29' 24"
Formato:
CD
Data di Uscita:
2011
Etichetta:
Distribuzione:
---
Agenzia di Promozione:
---
Recensione
I Violentor sono il risultato di una semplice operazione: estremizzare il sound grezzo, ruvido, sporco e alcoolico dei Motorhead; e che cosa succede? Beh, la storia dell'heavy metal ci insegna che la NWOBHM si unì all'hardcore e divenne thrash metal. E loro vogliono proprio darci un assaggio di questo ripasso di storia. Se l'apertura di "Too Loud" e "Genocide" (per citare due pezzi) sono pezzi di Lemmy sotto anfetamina, con voce straziata ed esasperata, "Awakened In Death" ci stacca l'osso del collo a colpi di Slayer e Bay Area, senza troppi fronzoli. "Dismissis The Evil" invece sembra un po' più tedesca e mi ha ricordato i Sodom più scanzonati; "F.Y.I." Per citare un'ultima traccia è un brano speed eccessivo che non può non chiamare in causa i Megadeth degli esordi. Non aspettatevi di trovare qualche raffinatezza (il rutto in apertura di "My Stomach Strong and Fit" vi fermerebbe!), qui si punta dritti: "live fast, die young, born to lose, live to win, burn in hell thrashspeedcore" senza compromessi.
Band come queste sono nate per la dimensione live, dove possono esprimere tutte le loro qualità di aggressione fisica, di volume spaventoso e distorsioni ustionanti, di valvole di fuoco e litri di birra in un pogo senza pietà; un'incisione di questo tipo è solo un riassunto veloce di quello per cui si va ad un concerto metal.
Giusto per essere completi, questo album non offre proprio nulla di nuovo (...e mi sa che era chiaro...) e nessuna concessione tecnico compositiva, ma sprigiona una grande carica, che aspetta solo una testa che si sbatta su e giù. Molto divertente, ma sono sicuro che è dal vivo che questa roba trita il cervello!
Track by Track
Too Loud

60

Awakened In Death

70

My Stomach Strong and Fit

60

Genocide

60

We Hate All

60

Sycophant

60

Dismiss The Evil

65

F.Y.I.

65

Go To Hell

60
Giudizio Confezione
Qualità Audio:

70

Qualità Artwork:

65

Originalità:

50

Tecnica:

65
Recensione di
June

»
pubblicata il --. Articolo letto
2032
volte.
Articoli Correlati