Cadaveria «Horror Metal» (2011)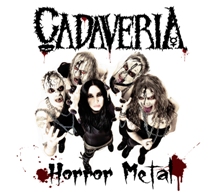 Autore:
Zoro

»
Recensione Pubblicata il:
--
Visualizzazioni:
2005
Band:
Cadaveria






Titolo:
Horror Metal
Nazione:
Italia
Formazione:
Cadaveria (vocals)
Frank Booth (guitar)
Dick Laurent (guitar)
Killer Bob (bass)
Marçelo Santos (drums)
Genere:
Durata:
56' 0"
Formato:
CD
Data di Uscita:
2011
Etichetta:
Distribuzione:
---
Agenzia di Promozione:
---
Recensione
Arriva all'invidiabile traguardo del quarto album la band guidata dalla bella e dannata Cadaveria, reginetta di quell'horror metal che da il titolo all'album, dandoci l'idea di trovarci davanti ad un lavoro-manifesto volto a sancire la maturità del gruppo.
La band ha da sempre proposto lavori a cavallo tra la violenza del black e del death e la decadenza del gothic, ostentando la determinazione di non farsi inquadrare dai generi, quanto di proporre una musica carica di atmosfera orrorifiche e teatralità. In quest'album, però, assistiamo ad una presa di posizione stilistica più marcata verso un death metal melodico, vicino agli Arch Enemy sia nelle chitarre (debitrici ai fratelli Almott) che nello scream femminile. Il black è ormai un piacevole retrogusto più che un ingrediente principale, quale invece è tanta, carezzevole melodia gothic, interpretata dalla carismatica frontwoman con ispirazione e abbandono. Ovviamente Cadaveria è il fulcro della band, abilissima com'è sia nell'incantarci con un cantato pulito sognante e spiazzarci con scream vocal velenose. Ma non dimentichiamo che la cantante è supportata da un ensemble di musicisti validissima (tra cui i membri dei Necrodeath John e Flegias), capace di dar vita a riff vellutati o taglienti come rasoi, e a contrappunti sinfonici di tastiere mai eccessivi e sempre efficaci nell'evocare le atmosfere gotiche con le quali il gruppo si è reso famoso.
Il disco si dipana in un agile danza, in cui annichilenti cariche death si fondono a melodie capaci di regalare picchi emotivi altissimi. Un plauso va al gruppo nella sua abilità nel fondere i generi, che si supportano e completano a vicenda donando all'album un immediata godibilità, figlia anche da un attitudine quasi rock nel songwriting (ascoltate il riff iniziale di This is not the Silence, o le clean vocals sbarazzine di Apocalypse), che crea in ultima analisi un sound ricco e mai noioso.
Se devo muovere una critica all'album, è la somiglianza eccessiva di alcuni passaggi alla musica degli Arch Enemy, da un gruppo con un personalità così particolare come i Cadaveria ci si aspetterebbe trovate ben più originali.
Ma in conclusione, i Cadaveria mettono a segno un altro centro che farà piacere sia ai fan che a chi si voglia avvicinare al gruppo.
Track by Track
Flowers In Fire

85

The Night's Theatre

80

Death Vision

75

Whispers Of Sin

75

Assassin

70

The Days of The After and Behind

75

Apocalypse

75

The Oracle (Of The Fog)

70

Requiem

75

This Is Not The Silence

85

Hypnotic Psychosis

75
Giudizio Confezione
Qualità Audio:

85

Qualità Artwork:

70

Originalità:

70

Tecnica:

85
Recensione di
Zoro

»
pubblicata il --. Articolo letto
2005
volte.
Articoli Correlati