Doomraiser «Mountains Of Madness» (2011)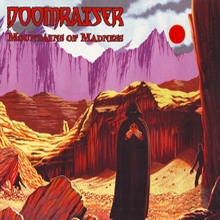 Autore:
HeavyGabry

»
Recensione Pubblicata il:
--
Visualizzazioni:
2297
Band:
Doomraiser




Titolo:
Mountains Of Madness
Nazione:
Italia
Formazione:
Cynar - vocals
Drugo - guitars
Willer - guitars
Bj - bass
Pinna - drums
Genere:
Durata:
46' 20"
Formato:
CD
Data di Uscita:
2011
Etichetta:
Distribuzione:
---
Agenzia di Promozione:
---
Recensione
Il terzo full length dei Doomraiser è testimonianza di una carriera che trascorre sotto il segno della crescita artistica e di una presenza continua sulle scene, cosa che gli ha permesso di crearsi un piccolo spazio all'interno della nicchia nazionale di cui fanno parte. Nella sola capitale il seguito che contano è numeroso e il loro classicissimo doom non perde nemmeno un colpo al momento della rappresentazione sul palco. Ma la voglia di innovazione nei propri schemi è tanta, e così viene alla luce "Mountains Of Madness", presentato da una copertina che ormai sembra chiaramente legarsi alle precedenti per la presenza della figura incappucciata vagante.
Solo cinque brani per portarci sulle montagne della follia, quelle descritte da Lovecraft nell'omonimo racconto (non a caso all'inizio del disco viene recitata una citazione dello stesso scrittore), anche se va specificato che non si tratta assolutamente di un concept album. Soltanto la titletrack d'apertura contiene dei riferimenti espliciti al racconto. Fin da subito si nota la muta di pelle da parte del combo capitolino, sempre profondamente devoto al doom, ma con decise variazioni sul tema: ciò che viene sviluppato nel sound è il versante psichedelico, mai accentuato come ora e che forse fà di "Mountains Of Madness" un album meno soffocante se paragonato alle produzioni precedenti, affiancato da piccole incursioni nello space rock (soprattutto per la scelta di alcuni suoni negli assoli) a completare il quadro. Il risultato è un tuffo indietro di 30/40 anni, ma non si resta soffocati dall'atmosfera vintage che si è voluta creare attorno al disco, forse soprattutto grazie ad una produzione eccellente che non ci fà dimenticare totalmente di essere nel 2011.
Insomma, i Doomraiser non vogliono cadere nella pagliacciata di cercare forzatamente dei suoni sporchi pur di ricreare un'illusione che piazzerebbe un alone di (finto) "morto" attorno alla musica: le chitarre quindi colpiscono duro come devono e la voce è chiara. La nota stonata secondo me sta però nell'aver esagerato in "Phoenix" sulla dilatazione del pezzo (che è anche il più lungo, sfiorando i tredici minuti), che pur non rendendolo noioso, lo lascia in bilico tra la sperimentazione comprensibile e l'altrettanto comprensibile perdita di concentrazione che può assalire l'ascoltatore. Un rischio che può colpire soprattutto coloro che non sono dei die-hard fan probabilmente, ma da tenere comunque in conto. Ma di fronte ad altri trentatre minuti di ottima musica, si può tranquillamente passare sopra un episodio isolato e lasciar godere ai Doomraiser un successo più che meritato.
Track by Track
Mountains Of Madness

85

Phoenix

75

Re-Connect

80

Vampires Of The Sun

80

Like A Ghost

85
Giudizio Confezione
Qualità Audio:

80

Qualità Artwork:

85

Originalità:

75

Tecnica:

80
Recensione di
HeavyGabry

»
pubblicata il --. Articolo letto
2297
volte.
Articoli Correlati