Enemynside «In the Middle of Nowhere» (2008)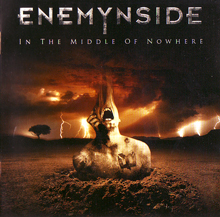 Autore:
BlackWingAngel

»
Recensione Pubblicata il:
--
Visualizzazioni:
1863
Band:
Enemynside




Titolo:
In the Middle of Nowhere
Nazione:
Italia
Formazione:
Francesco Cremisini :: Vocals
Matteo Bellezza :: Guitars, Backing Vocals
Davide Scala :: Guitars
Francesco Grieco :: Bass
Nicola Corrente :: Drums, Backing Vocals
Genere:
Durata:
48' 1"
Formato:
Data di Uscita:
2008
Etichetta:
Distribuzione:
---
Agenzia di Promozione:
---
Recensione
Era da tanto che non ascoltavo una produzione autoctona degna di nota come questo 'In the Middle of Nowhere' dei capitolini Enemynside. Non c'è che dire, veramente un bel disco: ben prodotto, ben suonato, ben arrangiato e soprattutto ben pensato. I cinque ragazzi della capitale infatti dimostrano un'ottima maturità compositiva, frutto ormai di un'assodata esperienza, ormai decennale, sia live che in studio. Il trademark è quello del trash metal attuale, quello per intenderci dei Machine Head, dei Defaced, dei The Haunted con qua e la qualche pennellata di rock di stampo americano in perfetto stile Alter Bridge. Il parto di questo disco è stato fatto presso i noti 16 Cellar Studios di Saul Morabito, una splendida realtà italiana che ha dato i natali a produzioni note anche livello internazionale come 'The Vile Conception' degli Hour of Penance. Entrando maggiormente nel dettaglio quello che ci viene proposto non squarcia ovviamente le nubi di un mercato già abbastanza saturo ma è un bel tassello all'interno del genere: gli arrangiamenti e la composizione sono maturi e personali, si sente che la lezione dei gruppi citati in precedenza è stata ben assimilata e fatta propria dagli Enemynside, che risultano piacevoli all'ascolto ed adrenalinici al punto giusto, belle melodie vocali, riff taglienti e potenti. Tutti i pezzi sono congegnati ed arrangiati per scorrere via lineari,coinvolgenti ma mai banali ne forzati. Una menzione d'onore va fatto a Francesco Cremisini, voce del gruppo, che dimostra un ottimo controllo delle linee vocali, graffianti quando è necessario, melodiche quando è d'uopo alleggerire le atmosfere. Unica pecca di questo bel prodotto, secondo me, è un sound un po' troppo standard rispetto alla loro proposta musicale, un'ulteriore evoluzione che potrebbero cercare è trovare un'identità sonora più caratteristica, più personale, quel tipo di sound, per intenderci, che ti faccia subito pensare a loro ascoltando un pezzo senza conoscerne il titolo. Segnalo caldamente agli appassionati in particolare due pezzi, l'opener 'Harmonic View' a la bella ballata 'Get Lost' caratterizzata un'ottimo heart feeling.
Track by Track
Harmonic View

80

Lesson Learnt

70

Unfold

70

Burnt by the Sun

75

N.B.T.

75

Get Lost

85

Freak Show

80

Devil's Care

70

Solstice

75

The New One

80
Giudizio Confezione
Qualità Audio:

85

Qualità Artwork:

80

Originalità:

65

Tecnica:

85
Recensione di
BlackWingAngel

»
pubblicata il --. Articolo letto
1863
volte.
Articoli Correlati