HELL IN THE CLUB: i dettagli del release party di "Devil On My Shoulders"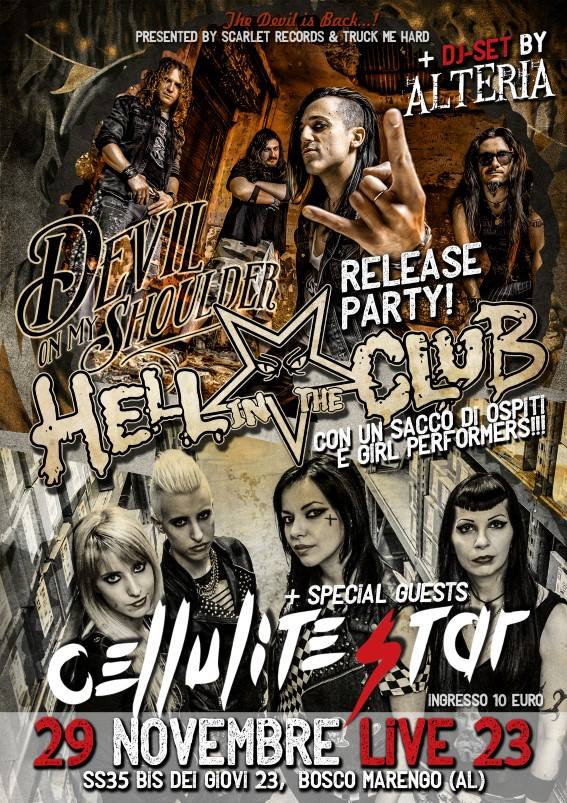 Il 4 novembre è tornata la rock n roll band HELL IN THE CLUB con il nuovo disco DEVIL ON MY SHOULDER in uscita per SCARLET RECORDS!
Sabato 29 novembre il gruppo con membri di Elvenking, Secret Sphere e Death SS, torna finalmente on stage con un release party d'eccezione al Live23 di Bosco Marengo (AL)
Sarà un vero e proprio party, uno show speciale dove gli Hell In The Club proporranno alcuni classici del debut album, oltre naturalmente a moltissimi nuovi anthem tratti dal nuovo best seller , acclamato dalla critica europea come uno dei migliori lavori hard rock del 2014.
Ma come detto, sarà un live speciale, con una serie di ospiti d'eccezione ( Bad Bones, Lucky Bastardz, Temperance e molti altri) a dividere il palco con Davide e soci.
Ad aprire il concerto ci sarà la all female band Cellulite Star, in uscita nelle prossime settimane con l'album d'esordio su Valery Records.
A seguire la festa continua con il DJ-SET di Alteria e lo spettacolo di due splendide GIRL PERFORMERS!
Non perdetevi uno dei party più esagerati di queste ultime settimane del 2014!
Per chi arriverà al locale dalle 21.00 fino alle 22.00 , ci sarà la possibilità di acquistare il nuovo " Devil On My Shoulder" a prezzo scontato.
Quindi , non mancate. Vi aspettiamo sin dall'inizio della serata!
A breve verranno annunciate tutte le date 2015 della band. Restate sintonizzati
http://www.hellintheclub.com
http://www.facebook.com/hellintheclub
http://www.truckmehard.com
http://www.facebook.com/truckmehard
Inserita da:
Jerico
il 24.11.2014 - Letture:
2034
Articoli Correlati
Altre News di MetalWave
Notizia Precedente
Notizia Successiva