MAG METAL FESTIVAL 2017: i dettagli del festival genovese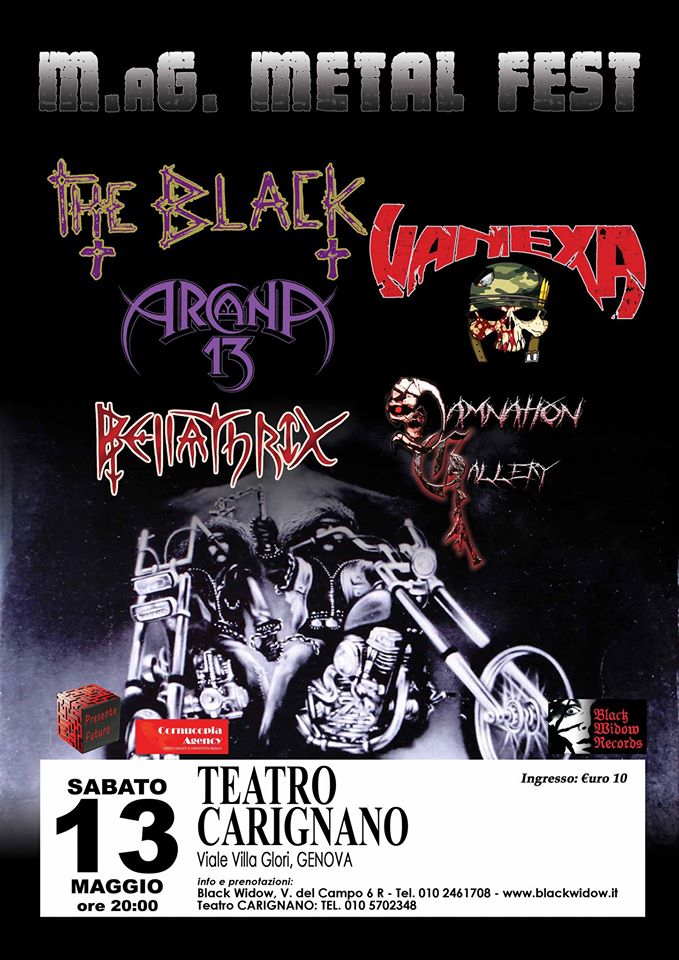 Un FESTIVAL METAL a GENOVA non è una cosa da tutti i giorni e dobbiamo dare merito alla associazione PRESENTE FUTURO, con la collaborazione della Cornucopia Agency e della BLACK WIDOW RECORDS, se questo evento è oggi una realtà che speriamo vada avanti nel tempo.
Dunque il 13 MAGGIO al TEATRO CARIGNANO suoneranno alcune bands di eccellente levatura tecnica e spettacolare, oltre chè di livello internazionale come i mitici THE BLACK con il loro Metal Mentis unico nel suo genere ed i rinnovati savonesi VANEXA che tanto bene di loro stanno facendo parlare nel mondo conl' ultimo bellissimo album "Too Heavy to Fly", assieme agli ARCANA 13 una delle più belle rivelazioni in ambiti dark metal con i loro riferimenti gotici, BELLATHRIX band di Genova dal sound tipicamnete heavy anni 80 formata da tre ragazzacce e due ragazzi, tutti elementi ben conosciuti in questi ambiti ed i DAMNATION GALLERY una nuova realtà dell'heavy metal genovese con la vocalista Scarlet capace di dominare il palco come una vampira.
Proprio l'associazione PRESENTE FUTURO ha voluto offrire questo spettacolo a tutti i metallari e fans della musica heavy, ad un prezzo favorevolissimo di soli 10 € sperando che la proposta sia gradita a riscuota un buon successo.
La qualità della bands è notevole, lo spettacolo è assicurato quindi non mancate di partecipare a questo evento che potrebbe segnare l'inizio di una serie di festival nella nostra città che ha voglia e bisogno di buona musica e di divertimento.
Inizio previsto per le ore 18.
Prezzo 10 €
Teatro Carignano
Viale Villa Glori - 16128 - Genova
+39 010 5702348
Black Widow Records
Tel.010 2461708
Tel.010 2544500
Inserita da:
Jerico
il 01.04.2017 - Letture:
1448
Articoli Correlati
Altre News di MetalWave