WACKEN OPEN AIR 2023: le bands confermate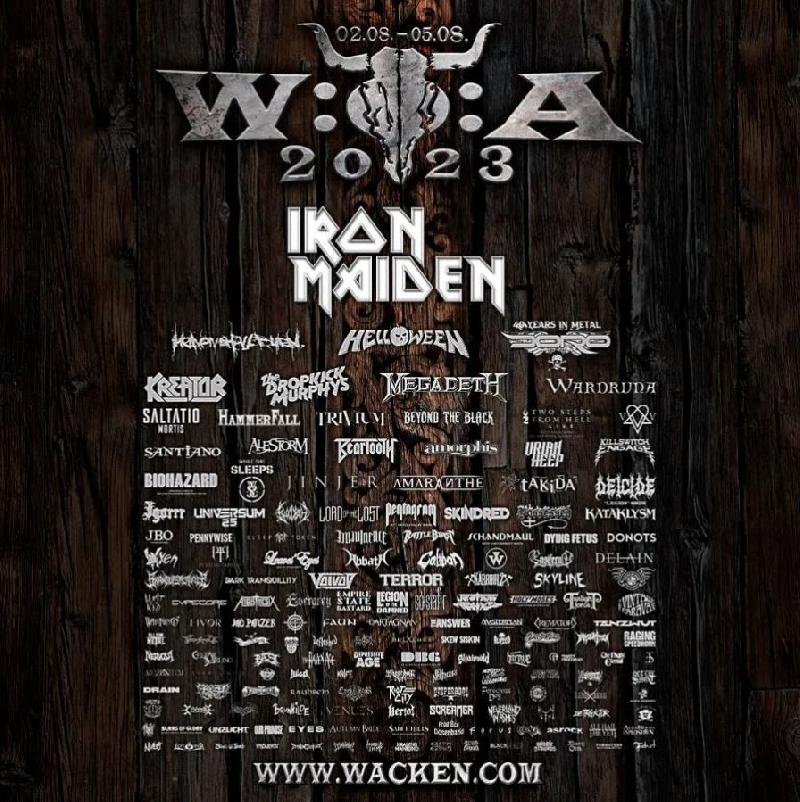 Come ogni anno il primo fine settimana di agosto a Wacken si terrà il fantastico Wacken Open Air ed il nostro DJ Demone sarà li presente per conto di Metalwave.it per seguirlo e successivamente raccontarvelo nella nostra sezione Live Reports:
http://www.metalwave.it/live-reports.php
Appuntamento ormai immancabile che si svolgerà quindi dal 02 al 05 Agosto.
Tutte le informazioni disponibili al sito:
http://www.wacken.com
Di seguito le band confermate che prenderanno parte alla manifestazione:
0% Mercury Abbath Acoustic Steel Ad Infinitum Adrian Kühn und Franzi Kusche Alestorm Alien Rockin Explosion All For Metal All Hail The Yeti Amaranthe Amorphis AndrelamusiA Aneuma Angus McSix Asrock Autumn Bride Baest Battle Beast Be'lakor Beartooth Beyond The Black Biohazard (Original Line-Up Exclusive German Festival Gig 23) Blaas of Glory Black Mirrors Black Tooth BlackSheep Blitzkid Bloodbath Brand of Sacrifice Brunhilde Burning Witches Bütcher Caliban Cam Cole Carpathian Forest Cellar Darling Cemican Chaosbay Chuan-Tzu CobraKill Crematory Cypecore Damnation Defaced Dark Tranquility dArtagnan Death In Taiga Defleshed Deicide (Special Legion Show) Delain Depressive Age DepriVation Der W Detraktor Dezperadoz Die beschissenen Sechs Diesanera Dog Eat Dog Donots Doro (40th Anniversary Show) Drain Dropkick Murphys Dust Bolt Dying Fetus Eivor Electric Callboy Empire State Bastard Employed To Serve Enemy Inside Ensiferum Erasing Mankind Ereb Altor Erik Cohen Evergrey EvilDead Extinct Eyes Fadrait Faun Ferocious Dog Finntroll Focus Forastero Western Metal Frog Bog Dosenband Frozen Soul Get The Shot Ghetto Ghouls Ghostkid Hafensaengers Hammerfall Hardbone Harpyie Havukruunu Heaven Shall Burn Heavy Metal Barpiano Helloween Heriot Hidden Intent Holy Moses (Last German Open Air Show) Holy Mother Horrid Sight Hostage Igorrr Imminence Immolation Iron Maiden J.B.O. (Special Frühshoppen Show) Jag Panzer Jinjer Kärbholz Kataklysm Kay Ray Killswitch Engage Knife Koldbrann Konvent Kreator Krownest Kumpels in Kutten Leaves' Eyes Left Ovr Legion Of The Damned Lord Of The Lost Maltworm Mambo Kurt Marco Mendoza Marty Friedman Maschine's Late Night Show Masterplan (20th Anniversary Show) Megadeth Mesmera Messticator Metaklapa Metternich Misery Oath Mit Ohne Strom Monsters of Liedermaching Morast Motörizer Mr. Hurley und die Pulveraffen Mutz and the Blackeyed Banditz My Own Ghost Nervosa Nestor Neverland In Ashes Nico Rose NVLO Objector Omnivortex Our Promise Ozzyfied Pennywise Pensen Paletti Pentagram (50th Anniversary Show) Peter Pan Speedrock Peyton Parrish Phantom Excaliver Plainride Possessed Raging Speedhorn Rauhbein Redeemed by the Blood Rezet Riot City Sable Hills Saltatio Mortis Santiano Sascha Paeth's Masters Of Ceremony Schizophrenia Screamer Sever Skalmöld Skew Siskin Skindred Skyline Sleep Token Slowly Rotten Sólstafir Sons of Tomorrow Strigampire Supernova Plasmajets Swartzheim Takida Tanzwut Taste of Greed Terror The Answer The Good the Bad and the Zugly The Night Eternal The Raven Age The Real McKenzies The Ukeboys The Vintage Caravan Tiansen Todsünde Trivium Twilight Force Two Steps From Hell Universum 25 Unzucht Uriah Heep Uwe Bahn Velvet Viper Venues Versengold Victims of Madness Vixen Voivod VV Wacken Firefighters Wardruna Warkings While She Sleeps Whoredom Rife Xaon Ye Banished Privateers
Inserita da:
Jerico
il 20.07.2023 - Letture:
182
Articoli Correlati
Interviste
Spiacenti!

Non sono disponibili Interviste correlate.
Live Reports
Spiacenti!

Non sono disponibili Live Reports correlati.
Concerti
Spiacenti!

Non sono disponibili concerti correlati.
Altre News di MetalWave
Notizia Precedente
Notizia Successiva