HARDROCKPARTY Vol.2: 19 tracce rock e 7 inediti assoluti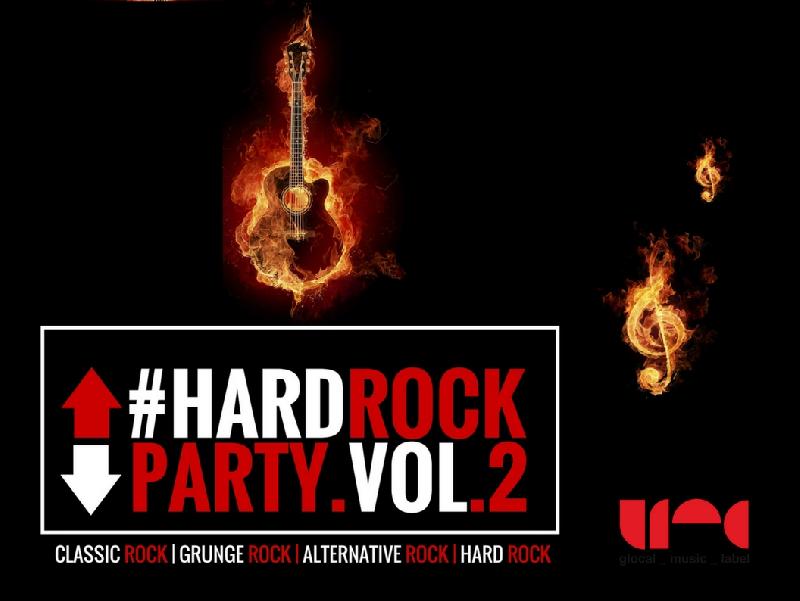 E' disponibile secondo volume della compilation #HARDROCKPARTY vol.2 edito dall'etichetta Vrec. La compilation raccoglie diversi artisti del panorama nazionale italiano che affrontano il rock e le sue diverse sfumature in lingua inglese. Compra su iTunes (solo 4,99€)
19 canzoni per 75 minuti di musica al fulmicotone con 7 brani inediti mai pubblicati, grandi cover del rock rielaborate (Gun'n' Roses, Cornershop, The Doors, Elvis Presley) ed i migliori artisti pubblicati da Vrec nell'ultimo anno con qualche ospite.
La tracklist inizia con una esclusiva assoluta: "Get Out of my Way" è un inedito degli Small Jackets, eccezionale band romagnola di rock anni settanta che vanta 4 album in studio, tour in tutta Europa, pubblicata dall'etichetta svedese Transubstans.
Nuovo brano per gli Uncledog, band padovana che con "Face On The Floor" recupera un brano mai pubblicato online prodotto da Sylvia Massey (producer americana già al lavoro con il gotha del rock mondiale).
I Nineteen Fourth si affacciano sul panorama musicale con due brani: l'inedito "Soul Speech" e la rivisitazione di "Welcome to the Jungle" dei Guns'n'Roses. Sound monolitico tra RATM e System of a Down, riferimenti della band marchigiana.
"Slave inside" è un brano particolare dei veronesi Endless Harmony incluso nel loro esordio "Hyperspace". Si tratta di una rivisitazione in lingua inglese del brano "Schiavi Moderni" dei Rhumornero, il cui cantante, Carlo De Toni, partecipa al brano.
Spettacolare inedito per i milanesi Lambstone: "Hunting" anticipa il disco di inediti in arrivo nel 2017 e lascia ben sperare per il debutto sulla lunga distanza della band prodotta da Pietro Foresti (Korn, LA Guns) (nella compilation ha contribuito a diversi progetti).
I trevigiani Down To Ground partecipano con il loro nuovo singolo "Today" attualmente in promozione radiofonica e corredato da un videoclip girato in estate durante gli opening act dell'intero tour italiano degli Skunk Anansie. Il brano è incluso nel secondo loro album "The World We Live In".
Gli Overdose partecipano alla compilation con la riuscita rivisitazione di "Brimful of Asha" dei Cornershop. Il brano è incluso in "1991", il loro esordio a tinte grunge.
Altro inedito è "Olympia" della Rick Perovich Band. Il cantautore rock triestino ritorna in scena con un brano che conferma il proprio talento compositivo nel realizzare rock hit dal forte impatto.
A rappresentare la capitale Roma arrivano gli Skymall Solution con l'inedito "Touch Me". La band uscirà nel 2017 con il nuovo album tra Deftones e Dream Theater.
I parmensi Celeb Car Crash partecipano alla compilation con "Let Me In", vero successo rock radiofonico incluso nel loro album "People Are The Best Show".
I veronesi EX si cimentano con la lingua inglese nel rifacimento rockeggiante di "Riders On The Storm" dei Doors, già incluso nel Tributo a Jim Morrison a cui hanno partecipato.
I bresciani Seddy Mellory portano il loro punk rock con il brano "Catwalk" incluso nella loro recente ultima fatica "Urban Cream Empire".
I pistoiesi The Fooots (con tre "o") contaminano il rock anni '70 con soluzioni moderne alla Black Keys: la riuscitissima "Jack Shame" inclusa nel loro esordio "This Is Not The Exit".
Gli Ant Mill propongono uno stoner rock progressive di forte suggestione: la loro "Burnin' Rope" proviene dal loro esordio "Double Rope Pendulum" con la bresciana Kandinsky Records.
Internazionali e stilosi i The Anthem, rock/pop/punk band con sede a Roma che con "Like You're James Dean" hanno ottenuto ampi consensi. Il brano è incluso nel disco "In It To Win It" (Alternative Factory).
"Day By Day" è il brano estratto dal secondo album dei milanesi Never Trust intitolato "The Line" vera e propria rock-hit che si fissa in testa.
Ancora Brescia per la rivisitazione di "A Little Less Conversation" di Elvis riproposta dai Tutti Frutti + 1, giovanissima band di rock'n'roll con all'attivo un EP con qualche inedito.
Chiudono i vicentini Virtual Time con il bel singolo "Fire World II" incluso nel loro album "Long Distance" (Irma Records).
Tracklist
1. SMALL JACKETS - Get Out of my Way (inedito)
2. UNCLEDOG - Face On The Floor (inedito)
3. NINETEEN FOURTH - Welcome To The jungle (Guns'n'Roses) (versione mai pubblicata)
4. ENDLESS HARMONY feat. RHUMORNERO - Slave Inside
5. LAMBSTONE - Hunting (inedito)
6. DOWN TO GROUND - Today
7. OVERDOSE - Brimful of Asha (Cornershop)
8. RICK PEROVICH BAND - Olympia (inedito)
9. SKYMALL SOLUTION - Touch Me (inedito)
10. CELEB CAR CRASH - Let Me In
11. EX - Riders on the Storm (The Doors)
12. SEDDY MELLORY - Catwalk
13. THE FOOOTS - Jack Shame
14. ANT MILL - The Burnin' Rope
15. THE ANTHEM - Like You're James Dean
16. NEVER TRUST - Day by Day
17. TUTTI FRUTTI +1 - A Little Less Conversation (Elvis Presley)
18. NINETEEN FOURTH - Soul speech (inedito)
19. VIRTUAL TIME - Fire World II
Release Party al Circolo Arci Cao De Sora di Sandrà (VR) sabato 29 ottobre con il live di Endless Harmony, Skymall Solution, Overdose. Ingresso libero con tessera Arci. A partire dalle ore 21:30.
Partecipa evento:
https://www.facebook.com/events/1253693234652443
Inserita da:
Jerico
il 28.10.2016 - Letture:
2123
Articoli Correlati
Altre News di MetalWave