SPAZIOROCK.IT FESTIVAL: annunciati gli headliner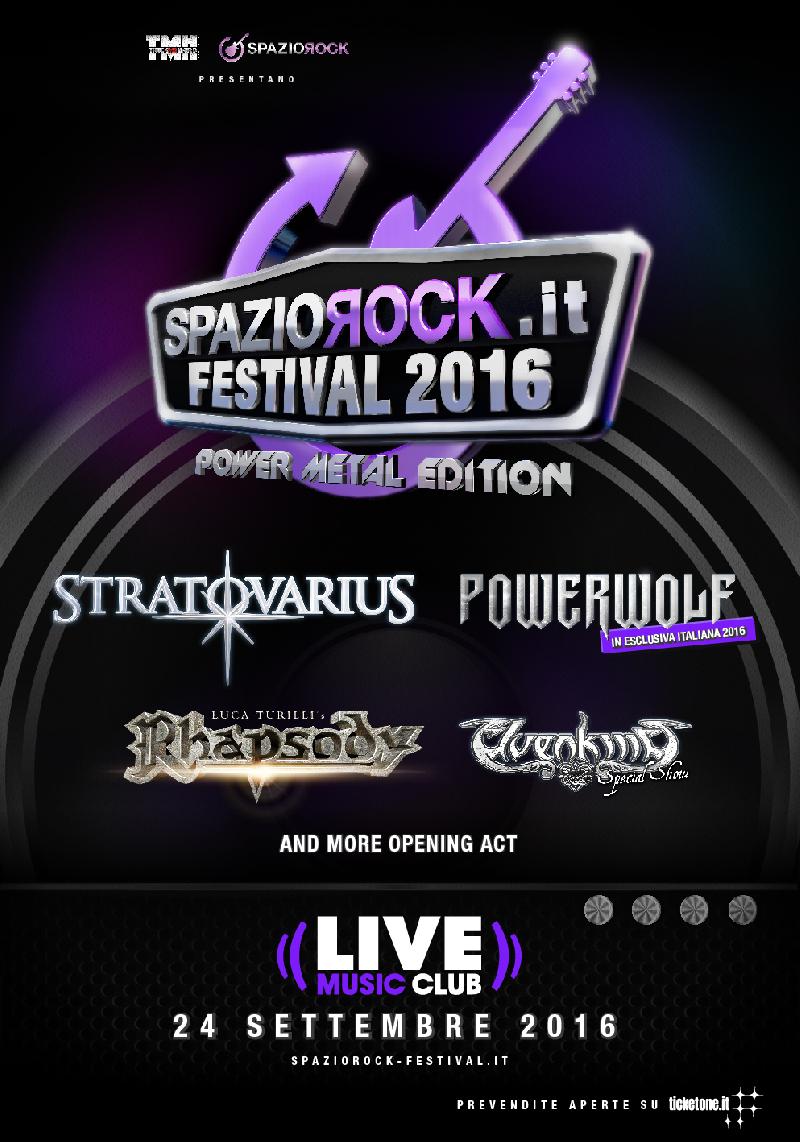 SpazioRock.it, web-magazine nazionale che si dedica al mondo della musica da sette anni, è lieto di annunciare ai propri lettori e a tutti i fan delle sonorità heavy e power metal la prima edizione dello SpazioRock.it Festival. Per l'occasione è stata scelta come cornice l'accogliente Live Club di Trezzo sull'Adda (MI), meta prediletta dagli appassionati della musica dal vivo all'interno dell'area di Milano, che da 20 anni instancabilmente presenta al pubblico del nord Italia artisti di fama internazionale.
La prima edizione del festival, organizzata in collaborazione con l'agenzia Truck Me Hard, si svolgerà sabato 24 settembre 2016 e sarà interamente dedicata al power metal, con la presenza sul palco di band rinomate quali:
- Stratovarius: autori dello splendido album Eternal, pubblicato lo scorso anno, la band finlandese si prepara a deliziare i propri fan italiani con uno spettacolo energico, a cavallo tra le produzioni più recenti ed i classici ormai intramontabili. Con oltre 20 anni d'esperienza alle spalle, e tour di successo in tutti i cinque continenti, il combo di Helsinki è pronto a portare allo SpazioRock Festival il proprio stile musicale per infiammare il palco del Live Club.
- Powerwolf: il combo tedesco ha bisogno di ben poche parole di presentazione. Dal 2003, anno di formazione della band, i cinque tedeschi hanno costantemente scalato le classifiche di vendita del Vecchio Continente, dando alle stampe ottimi album di un personalissimo power metal imbevuto di leggende e folklore proveniente dalla Romania. I fan adorano le loro canzoni, impazziscono per le loro esibizioni dal vivo, dove la musica si fonde con la parte scenografica fatta di costumi, effetti pirotecnici e scenografie suggestive. Quello dello SpazioRock.it Festival sarà l'unico concerto italiano del 2016 dei Powerwolf!
- Luca Turilli's Rhapsody: rinato a nuova vita dopo la partenza dai Rhapsody Of Fire, il visionario chitarrista triestino ha dato alle stampe due ottimi album, perfetto connubio tra il metal sinfonico e la sua personalissima visione di partiture musicali perfette per una colonna sonora. Se la possibilità di ascoltare estratti dall'ultimo nato in casa Rhapsody, Prometheus, Symphonia Ignis Divinus (2015), è già un ottimo motivo per non perdersi l'esibizione della band, la presenza di brani storici provenienti dal passato di Turilli è l'aggiunta perfetta per rendere l'esperienza (cinematica) indimenticabile.
- Elvenking: la musica della formazione friulana è tutto fuorché facilmente inquadrabile, con sperimentazioni lungo tutta la loro carriera che hanno portato agli ultimi due full-length in studio, Era (2012) e The Pagan Manifesto (2014), perfetto mix tra power, folk ed elementi più mainstream. Che la band friulana sia tra i migliori esponenti in ambito power metal su suolo italico ce lo mostrano ampiamente sia il DVD/CD dal vivo The Night of Nights, pubblicato lo scorso anno, che la partecipazione alla prossima edizione del Wacken Open Air. Gli Elvenking stanno preparando uno show speciale ed esclusivo per lo SpazioRock.it Festival.
Sabato 24 settembre 2016
SpazioRock.it Festival
LIVE CLUB Viale Mazzini 58 Trezzo Sull'Adda (MI)
STRATOVARIUS, POWERWOLF, LUCA TURILLI'S RHAPSODY, ELVENKING & Many More
BIGLIETTI
Il costo del biglietto è di € 37,00 più diritti di prevendita. Prezzo in cassa € 42,00.
Le prevendite sono disponibili attraverso il circuito TICKETONE e rivendite autorizzate a partire da mercoledì 16 marzo 2016.
Per info:
http://www.spaziorock-festival.it
http://www.truckmehard.com
info@spaziorock.it
Inserita da:
Jerico
il 12.03.2016 - Letture:
977
Articoli Correlati
Altre News di MetalWave