Helloween + Stratovarius + Avatar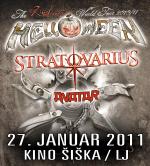 Data dell'Evento:
27.01.2011
Band:
Helloween
Stratovarius
Avatar
Luogo dell'Evento:
Kino Siska
Città:
Ljubjana
Autore:
Warrior747

»
Visualizzazioni:
1975
Live Report
Giungo sul posto accompagnato da un leggero nevischio e rimango allibito dalla mancanza assoluta di un cartello per raggiungere il locale o di un manifesto dell' evento. Abituato ai concerti italiani, dove per arrivare sotto palco la presenza deve essere fissata ad almeno tre o quattro ore prima dell'apertura dei cancelli, arrivo davanti al Kino Siska verso le quattro di pomeriggio, trovando Helloween e Stratovarius a mangiare nel ristorante dietro al locale. Dopo averli aspettati riesco ad incontrare personalmente Marcus e Micheal, gli unici due della formazione originale; Marcus è stato molto gentile e disponibile, mentre Micheal ha dimostrato un'antipatia fuori del comune che è perdurata anche durante lo show.
Puntualmente (senza le svariate ore di ritardo che solitamente accompagnano le aperture dei concerti nostrani) si entra e vorrei far notare che fino al momento dell'apertura non vi era alcuna coda; il pubblico infatti era suddiviso in gruppetti a parlare, bere, fumare ed anche al momento dell'apertura la gente camminava, fermandosi allo stand a comprare la t-shirt o comunque senza correre o spingere. Riesco così, più tranquillamente che mai ad adagiarmi in prima fila ed a sistemarmi per la prima band della serata: gli Avatar.
Band svedese di ottimo potenziale si rivela essere una buonissima band emergente che con il suo melodic death metal con molta influenza heavy; quaranta minuti di perfomance infuocata introducono al pubblico sloveno una band molto più conosciuta sul suolo internazionale, sto chiaramente parlando degli Stratovarius.
I finlandesi, freschi del nuovo album "Elysium" e della reunion del 2008 senza Timo Tolkki si mostrano sin da subito in gran forma con una infuocata riproduzione di "Haunting High and Low" che manda tutti in visibilio. Il nuovo chitarrista, in line-up dal 2008 da subito gran prova di sé e non fa mancare l'assenza di Timo, così come il poco meno recente bassista Lauri Porra, altro giovane talento. A seguire l'apertura in scaletta troviamo subito l'anthem "Speed Of Light" che fa cantare tutti all'unisono attaccata a "Kiss Of judas"; la band è un rullo compressore e non si permette una falla. Dal penultimo sforzo discografico riportano la bella "Winter Skies" mentre dall'ultima uscita, come porta bandiera abbiamo "Darkest Hours", che ci da un ottimo assaggio del ottimo ritorno sulle scene mondiali. In questo concentrato di velocità e potenza possiamo gustare brani come "Forever", "Phoenix", "Stratosphere" fino agli ultimi due encore chiamati a gran voce con "Paradise" e la fantastica "Black Diamond". A parer mio la performance migliore della serata, alimentata dalla simpatia della band che non perde occasione per ringraziare i suoi fans dopo ogni song e rovinata unicamente da un audio pessimo che poneva il basso al di sopra di tutti gli altri strumenti.
Stesso audio scandaloso per gli headliner che si presentano sul palco con la appena sfornata "Are you Metal?". Come accennavo prima, durante tutto il live act, Micheal Weikath mantiene sempre la stessa espressione neutrale come se il concerto fosse la parte noiosa di una lunga routine e rimane nell'ombra quasi tutto il tempo. A differenza sua tutti gli altri membri sono carichi e scherzosi con il pubblico, a partire dal vocalist Andi Deris, la cui prova vocale è stata massacrata dall'impianto a dir poco scandaloso; a sollevare gli animi ci pensa però la setlist, composta all'80% da vecchi classici. Al secondo posto in scaletta torniamo infatti indietro nel tempo con la sempre verde "Eagle Fly Free", seguita da "March Of Time" e divisa dalla nuova " Where The Sinners Go" da un emozionante assolo di Sasha che regala un attimo di quiete in questa tempesta di potenza. Con "World Of Fantasy" da prova di sé Daniel Loeble con un assolo di batteria che alle lunghe vedeva i presenti piuttosto stremati; finalmente però, giungiamo alla parte old school della setlist che rende l'audience molto più felice. Parliamo di brani come "Handful Of Pain", la cantatissima "Forever And One" in versione acustica (il brano meno rovinato della serata dall'impianto audio ed anche uno dei meglio riusciti) ed un interminabile medley di tre brani che singolarmente avrebbero portato via il tempo di metà scaletta (Keeper Of The Seven Keys/ The King For A 1000 Years/ Halloween). Dopo la classica "I Want Out" poi partono i due encore che serrano la serata: il primo con la chicca tratta dal primo "Walls Of Jericho" "Ride The Sky" e "Future World" ed il secondo, a concludere oltre un'ora e mezza di ottimo power metal "Dr. Stein", con la salita sul palco del vincitore del concorso "Are You Dr. Stein?" che, oltre ad ottenere una visita del backstage con gli Helloween, plettri, foto e quant'altro ha anche l'onore di distribuire delle zucche gonfiabili al pubblico direttamente dallo stage.
Si conclude così una bellissima serata, augurandoci che il prossimo Hellish Fest sia ancora meglio!! Happy Helloween a tutti!!

AVATAR SETLIST:
Intro (MacGyver)
The Great Pretender
Roadkill
Shattered Wings
Reload
Deeper Down
Pigfucker
Queen Of Blades

STRATOVARIUS SETLIST:
Intro
Hunting High And Low
Speed Of Light
Winter Skies
Darkest Hours
Stratosphere
Phoenix
Forever
Paradise
Black Diamond

HELLOWEEN SETLIST:
Intro
Are You Metal?
Eagle Fly Free
March Of Time
Where The Sinners Go
World Of Fantasy
I'm Alive
Forever And One (Acoustic)
Handful Of Pain
Medley (Keeper Of The Seven Keys/King For A 1000 Years/Halloween)
I Want Out
----------------------------------
Ride The Sky
Future World
----------------------------------
Dr. Stein
Recensione di
Warrior747
Articolo letto
1975
volte.
Articoli Correlati