Elvenking «Red Silent Tides» (2010)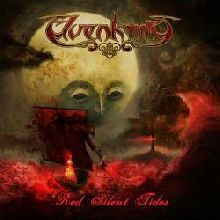 Autore:
Aislinn

»
Recensione Pubblicata il:
--
Visualizzazioni:
2600
Band:
Elvenking




Titolo:
Red Silent Tides
Nazione:
Italia
Formazione:
Aydan - Guitars
Damna - Vocals
Lethien- Violin
Gorlan -bass
Zender -drums
Rafahel - Guitars
Genere:
Durata:
Formato:
CD
Data di Uscita:
2010
Etichetta:
Distribuzione:
---
Agenzia di Promozione:
---
Recensione
Tornano gli Elvenking, band nostrana che gode ormai di un notevole rispetto e si propone con un nuovo album, Red Silent Tides, successore di Two Tragedy Poets (...and a Caravan of Weird Figures) (2008).
Il disco scorre piacevole attraverso tutte le undici tracce, tra momenti più power e altri più oscuri e d'atmosfera, anche grazie alla prova del cantante Damna, dotato di una buona espressività. Le canzoni si snodano con ritornelli accattivanti e paiono costruite apposta per catturare l'ascoltatore e farsi memorizzare fin dal primo momento – ma basta questo a rendere un album anche memorabile? Dopo diversi ascolti, la generale impressione viene confermata: qui la fa da padrone l'immediatezza, vorrei dire una certa semplicità (il che non è necessariamente un difetto né un appunto) a volte efficace, altre forse un po' stucchevole. L'album è capace di trasmettere sensazioni gradevoli; ciò che mi sembra mancare, tuttavia, è quel "di più" che avrebbe potuto trasformare un buon disco in un ascolto imprescindibile. Red Silent Tides non è il capolavoro che travolge e fa gridare al miracolo, pur essendo una proposta sostanzialmente positiva. Forse gli elementi folk avrebbero potuto trovare maggiore spazio e arricchire ulteriormente un sound che si è fatto qui davvero melodico; proprio questa estrema melodicità rischia però, alla lunga, di annacquare quanto di buono si trova nei pezzi; qua e là, per quanto mi riguarda, ho sentito il bisogno di qualcosa che "graffiasse" e osasse di più.
"Dawnmelting" parte convincente e, come anticipato, si fa subito memorizzare. E' un brano non privo di momenti d'interesse e costituisce un ottimo inizio, che rende chiaro fin dall'inizio quello che la band ha da offrire. Buona anche "The Cabal", di cui trovate su Youtube, se siete curiosi di scoprirla subito, anche il video ufficiale, nonché "The Last Hour" e "Silence de mort". Pregevole l'atmosfera di "Runereader", soprattutto nelle parti acustiche. Non male anche la successiva "Possession", mentre in generale mi ha coinvolto di meno la seconda parte dell'album.
In chiusura, una nota di merito per la copertina suggestiva e intrigante.
Track by Track
Dawnmelting

80

The Last Hour

80

Silence de mort

75

The Cabal

80

Runereader

75

Possession

75

Your Heroes are Dead

75

Those Days

65

This Nightmare Will Never End

70

What's Left of Me

65

The Play of the Leaves

70
Giudizio Confezione
Qualità Audio:

75

Qualità Artwork:

80

Originalità:

75

Tecnica:

75
Recensione di
Aislinn

»
pubblicata il --. Articolo letto
2600
volte.
Articoli Correlati