Methedras «The Worst Within» (2005)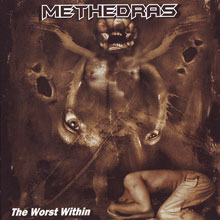 Autore:
Ernando

»
Recensione Pubblicata il:
--
Visualizzazioni:
2552
Band:
Methedras







Titolo:
The Worst Within
Nazione:
Italia
Formazione:
Claudio Facheris - Vocals
Eros Mozzi - Lead Guitar
Massimiliano Ducati - Rhythm Guitar
Andrea Bochi - Bass
Gregorio Ferrarese - Drums
Genere:
Durata:
26' 22"
Formato:
Data di Uscita:
2005
Etichetta:
Distribuzione:
---
Agenzia di Promozione:
---
Recensione
I Methedras spaccano proprio! Il loro thrash è violento, leggermente riconducibile, se non per qualche passaggio, al death, ma più per il modus che per l'effettiva sostanza. I Testament degli ultimi studio-album sono le fonti d'ispirazione da cui attingono maggiormente, coi loro fraseggi e i solos; anche il cantato di Claudio Facheris ricorda il singer dei californiani e ciò è da leggersi come presenza di classe cristallina. E poi chi ha detto che l'originalità è sempre sinonimo di qualità? Qui si parla di musica non si rilasciano brevetti! Nella produzione dei lombardi non troviamo mai un calo di tensione nelle sette tracce facenti parte il platter, compresa la strumentale ed acustica Estd. 1996, e l'ascoltatore viene tempestato da riff in pieno stile Bay Area e resta avvinghiato allo stereo atto a carpire i duelli delle due asce Eros Mozzi e Massimiliano Ducati. Da sottolineare anche il lavoro della parte ritmica con un lavoro dietro alle pelli eccellente da parte di Parla, in forze ai Cadaveric Creamtorium ed in prestito per le registrazioni di The Worst Within, e del basso di Andrea Bochi, anche se il suono di quest'ultimo è un po' trascurato in sede di missaggio: peccato veniale! Oltre alle tracce audio sul dischetto ne sono presenti anche quattro multimediali che vedono i nostri sul palco del Wacken Open Air, a cui hanno partecipato nel 2004, in tre di esse e nella restante un "making of" dell'album in questione. Nella prima trance possiamo ammirare la furia live che contraddistingue le performances dei thrasher italiani, animati dall'adrenalina di una cornice così suggestiva come il W.O.A.: The Denied God, Wreck N' Roll e L.R.S. i pezzi eseguiti e catturati; la seconda parte consta dell'ormai "semprepresente" video che fotografa il gruppo durante la messa in opera del prodotto di cui poi si fruisce. Insomma, i Methedras sono davvero una bella realtà e ritengo che si debbano supportare, anche perché gli italiani, con la loro esterofilia, tendono a snobbare i prodotti nazionali a discapito di quelli più pubblicizzati o blasonati provenienti da altre nazioni: ma è davvero tutto oro ciò che luccica?
Track by Track
Freet of Hate

78

By Yourself

79

Flash Over

82

Vermination

81

One Trouble Less

76

Estd. 1996

75

No More Rules

76
Giudizio Confezione
Qualità Audio:

71

Qualità Artwork:

68

Originalità:

65

Tecnica:

78
Recensione di
Ernando

»
pubblicata il --. Articolo letto
2552
volte.
Articoli Correlati