Immortal Rites «Art of Devolution» (2004)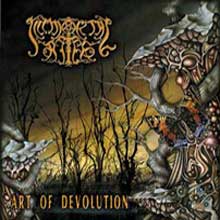 Autore:
Alcio

»
Recensione Pubblicata il:
--
Visualizzazioni:
1714
Band:
Immortal Rites


Titolo:
Art of Devolution
Nazione:
Germania
Formazione:
-
Genere:
Durata:
42' 38"
Formato:
Data di Uscita:
2004
Etichetta:
Distribuzione:
---
Agenzia di Promozione:
---
Recensione
Gli Immortal Rites giungono dal sud della Germania, dove nascono nell'ormai lontano 1996, e hanno speso molto della loro vita di band nel cercare di proporre all'audience la loro personale visione di Melodic Death Metal.
Il quartetto teutonico ha registrato sinora solo un mini-CD nel 1999, e debutta sulla lunga distanza con il presente disco, prodotto da sua maestà Alex Krull, che vede la partecipazione di ospiti famosi alle guest-vocals dello stesso Krull e di Liv Kristine dei Theater of Tragedy.
Sono proprio curioso di ascoltare questo dischetto, perché mi ha colpito da subito: "Immortal Rites" è il titolo di una delle mie song preferite (Morbid Angel), il logo ha l'illegibile forgia di altri logos di stampo black metal, la cover ha i colori e l'iconografia di un lavoro di prog-rock anni 70 metre il titolo mi ha fatto sorridere perché ricorda uno dei cavalli di battaglia dell'italico Senatùr.

Il CD è aperto da uno strumentale ambient/atmosferico che dopo poco più di un minuto lascia spazio all'assalto frontale che risponde al titolo di "Fatal Exploited", di matrice direi quasi brutal americano, con echi di tastiera. Onestamente c'è ben poco del melodic death citato nella bio, ma il pezzo è davvero un bel biglietto da visita per questa band semi-sconosciuta.
un bel riffone corposo ci presenta la seconda traccia "Dressed in ..." con un riffing di scuola svedese serrato e dalla melodia accattivante in stile primi Entombed/Unleashed. Uno dei riff ricorrenti ha addirittura il sapore dei Sepultura di "Arise".
Interessantissimo il riff iniziale della terza song "Digital God", che si dipana sempre su territori svedesi, ma dalle sonorità più corpose e dalle velocità medie molto più vicine a certo death americano. Bello l'assolo melodico sul rallentamento centrale.
Accordoni su giro di tastiera e cassa dritta. Questa la ricetta iniziale della quinta "United ...", ma non preoccupatevi non stiamo degenerando nel goth, infatti parte un riff di carcassiana memoria ed il brano si attesta su un mid-tempo groovy su cui si alterna il cantato growl e quello pulito/sussurrato. Un pezzo potente e accattivante.
Torna ad aleggiare lo spettro degli ultimi Carcass nei riff iniziali della successiva "Mirror ..." che ha un primo incipit cantato di stampo goth che però lascia subito spazio ad una parte più tirata e metal! Interessante l'intreccio ritmico del brano, ed anche l'assolo mostra uno studio particolare per evitare di cadere nei soliti cliché del genere.
La settima traccia, "Hallucination ...", viene aperta da un arpeggio dal sapore darg/wave, poi riproposto in versione distorta ed in chiave Death (nel senso della band). Gli IR spingono quasi subito sull'acceleratore per fare ricordare (se mai ce ne fosse ancora bisogno) di che pasta sono fatti.
"The Utter Dark" segue con le sue melodie di fondo in bilico sull'oscuro baratro del black melodico di stampo svedese.
Un mezzo tempo dal riffing dal gusto Schuldiner apre "Pathetic ..." che però accelera poco dopo tornando nei territori del death nord-europeo, comprensivo di una parte dal sapore Children of Bodom.
Conclude il lavoro "The Cadaverizer" una bella bordata di death di stampo più US brutal, anche per uno stacco dal gusto Cannibal Corpse.

Credo no ci sia bisogno di spendere ulteriori parole.
Questo CD è dannatamente uno dei migliori che mi sia mai passato tra le mani da quando collaboro con Metal Wave.
Buon growl, buona tecnica agli strumenti, fantasia negli arrangiamenti che rende appetibili anche riff non propriamente originalissimi e molta personalità: per un debut album direi che non è affatto male!
La produzione di Alex Krull, vecchio marpione del metal estremo europeo, non fa altro che completare un quadro già di per sé ottimo. Chissà se quel paio di digressioni sospese sul goth siano state aiutate dalla presenza della mente pensante degli Atrocity???
Ad ogni modo: FATELI VOSTRI!!!!
Track by Track
Eugenic (intro)

80

Fatal Exploited

80

Dressed in Amazing Red

85

Digital God

85

United Scars Anthem

90

Mirror Reflections

85

Hallucinations Overture

70

The Utter Dark

80

Pathetic Patterns

85

The Cadaverizer

80
Giudizio Confezione
Qualità Audio:

80

Qualità Artwork:

75

Originalità:

75

Tecnica:

80
Recensione di
Alcio

»
pubblicata il --. Articolo letto
1714
volte.
Articoli Correlati