All Amort «Lost In A Corner» (2012)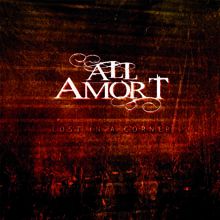 Autore:
Vincent

»
Recensione Pubblicata il:
--
Visualizzazioni:
2085
Band:
All Amort




Titolo:
Lost In A Corner
Nazione:
Italia
Formazione:
Am Palmieri - Guitars
Marco "joutsen" Caragnano - Drums
Andrea "giò" Giovannoni - Bass
Gianluca "g-elle" Forcella - Voice
Danilo "mr D." Di Lorenzo - Voice
Genere:
Durata:
15' 41"
Formato:
EP
Data di Uscita:
2012
Etichetta:
Distribuzione:
---
Agenzia di Promozione:
---
Recensione
Amo scegliere i gruppi dove non è indicato un genere specifico al momento della consegna del lavoro perché, come spesso accade, vuol dire che quello che avrai sotto mano e sui timpani sarà sicuramente qualcosa di personale con alle spalle un lavoro ed un impegno notevoli. In "Lost In a Corner" è così e non si rimane certo delusi. La biografia della band inizia con le parole: "From the northern italian underground metal movement, ALL AMORT breaks out!". Gli All Amort devono scrivere che sono italiani a caratteri cubitali!!! Devono far vedere di che pasta siamo fatti e non rimanere dimenticati in un angolo come il titolo del loro primo lavoro!!! Questo è un EP da prendere, inserire nello stereo (o, per usare una terminologia attuale, caricarli sull'iPod nella dockstation), alzare al massimo il volume, mettersi di fronte alle casse e attendere pochi secondi prima di essere sommersi da un suono massiccio e potente, essere percorsi da una scarica di adrenalina lungo tutto il corpo e rimanere letteralmente paralizzati di fronte ad un tale impatto sonoro. Questi cinque ragazzi ci sanno fare c'è poco da dire: la violenza della voce e dei testi che trapela dalle chitarre e da una batteria perfette che non perdono un colpo, già dalle prime battute ti fa capire che sei di fronte ad un lavoro di alta qualità e molto curato in ogni sua sfaccettatura. L'inizio con una sorta di colpi, come fossero un battico caridaco, che crescono di intensità, aiutati da uno scream improvviso, ti proietta direttamente all'interno di "Gain from Love", per me la canzone migliore dell'EP. La band non cala d'intensità con le altre due tracce, impeccabili sia ritmicamente che melodicamente ed arrivato alla fine mi viene strano pensare che sia già tutto finito, aiutato anche da una sorta di outro in "End of the remnants". Spero vivamente con tutto il cuore di poter aver presto sotto mano un CD vero e proprio, ed anche la mia energia ne trarrebbe giovamento, perché questo lavoro di fa venire voglia di sentire dell'altro, ma la pazienza è la virtù dei forti per cui dovrò aspettare. Non voglio inserirli in un genere perché come dicono loro "we just play!" e credo che questa frase rispecchi a pieno quello che secondo me dovrebbe essere la strada da percorrere per fare musica: libera da ogni genere con la piena libertà di poter sperimentare ogni singola cosa senza vincoli. Per cui andate sul loro sito, scaricatevi direttamente l'EP dalla sezione releases e buon ascolto.
Track by Track
Gain From Love

85

Beyond Eternal Lies

80

End Of The Remnants

80
Giudizio Confezione
Qualità Audio:

85

Qualità Artwork:

70

Originalità:

80

Tecnica:

85
Recensione di
Vincent

»
pubblicata il --. Articolo letto
2085
volte.
Articoli Correlati