Chupacabras «...il Tuo Delirio» (2010)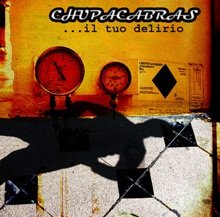 Autore:
Tripp

»
Recensione Pubblicata il:
--
Visualizzazioni:
1551
Band:
Chupacabras




Titolo:
...il Tuo Delirio
Nazione:
Italia
Formazione:
Freddy - voce
Fede - chitarra
Marco - basso
Slavo - batteria
Genere:
Durata:
33' 45"
Formato:
CD
Data di Uscita:
2010
Etichetta:
Distribuzione:
---
Agenzia di Promozione:
---
Recensione
Il dna degli americani Rage Against The Machine incrociato con quello dei brasiliani Sepultura, con un pizzico di grunge di Seattle, quello di matrice soundgardiana: questa è l'ambiziosa ricetta proposta. Il risultato però è davvero avvincente ragazzi ovvero i Chupacabras, un ibrido orgogliosamente italico.
Il Chupacabras è una creatura misteriosa, una bestia letale che ti piomba addosso e impunemente succhia tutto il tuo sangue, la tua linfa vitale e lascia a terra solo la tua carcassa vuota e senza vita. Questo è quello che fa sostanzialmente la band di Imperia, ovvero ti restituisce tutta questa ferocia e violenza sonora direttamente nelle tue orecchie. Il metalcore prodotto dalla band è davvero senza fronzoli, diretto, sfrontato, sfacciato e pesantemente schierato. Il sound è da subito pregno di rabbia e frustrazione ma aggiunge a tutto ciò di un ritmo veramente trascinante e incalzante. Non si riesce davvero a rimanere fermi sotto il muro di chitarre dei Chupacabras. La band aggiunge ad una voce sparata, assolutamente incazzata e delirante, un background sonoro grooveggiante, supportato da una sezione ritmica pulsante e saltellante di natura crossover, che li rende addirittura ballabili. I testi, da apprezzare la scelta delle lyrics in italiano, sono passionali, incisivi, politicizzati e costituiscono un mezzo potentissimo per trasmettere le tematiche di cui si fa carico la band, ovvero una profonda denuncia sociale. Esse vengono trattate con una veemenza e un'intensità davvero disarmante e trasmettono a pieno tutte le emozioni provate dalla band. Il sound è moderno e graffiante, il songwriting è di alto livello, insomma la band non ha davvero nulla da invidiare a nessuno, tantomeno ad altre realtà italiane o europee.
Questo è l'ennesimo esempio, che le band del bel paese sono assolutamente rilevanti dal punto di vista musicale. I Chupacabras sono una combo esplosiva di ira primigenia, creatività,ispirazione ed eclettismo. Un macigno che non lascia scampo, che ti arriva dritto in faccia.
Track by Track
Condanna

90

Guerra Preventiva

90

Il Tuo Delirio

90

Chupacabras

90

Vortice Di Polvere

90

Orizzonti Verticali

90

Ragazzo Inutile

90

Non Esisto

90

Bush Kick Ass

S.V.

Naziskin In The USA

90

Lacrime

85
Giudizio Confezione
Qualità Audio:

90

Qualità Artwork:

55

Originalità:

90

Tecnica:

90
Recensione di
Tripp

»
pubblicata il --. Articolo letto
1551
volte.
Articoli Correlati