Lucky Bastardz «Bite Me, Dude» (2010)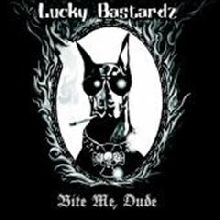 Autore:
fabio HC

»
Recensione Pubblicata il:
--
Visualizzazioni:
2360
Band:
Lucky Bastardz



Titolo:
Bite Me, Dude
Nazione:
Italia
Formazione:
Geppo:: voce
Paco:: chitarra
Mark:: batteria
Mr. TNT:: basso
Genere:
Durata:
44' 56"
Formato:
CD
Data di Uscita:
2010
Etichetta:
Distribuzione:
---
Agenzia di Promozione:
---
Recensione
Pensavo non uscissero più album del genere. E con questo pensavo che il rock'n roll più crudo stesse andando scemando col passare degli anni.
Ma questi Lucky Bastardz mantengono vivo il genere primordiale molto motorheadiano, andando a stupire per il loro approccio alla musica e allo stile di vita "sesso, droga e rock'n roll".
Questi ragazzi (pare siano di Alessandria), incidono il loro secondo full length composto di undici caparbiche tracce, ognuna delle quali potrebbe essere un vero e proprio inno al rock.
Si comincia speditamente con "Fire, Beers, Rock'n roll", la quale presenta un intro molto rockabilly, ma appena parte la voce del cantante si cambia registro; infatti vocalmente Geppo ricorda moltissimo lo stile del buon Lemmy, ma il suo approccio non è scontato e appare sempre selvaggio e brutale.
Pezzo particolare del disco è la quarta traccia "Tale From the Land of Mafia", che può ricordare lontanamente qualche ballata siciliana (visto anche il titolo), e credo che sia l'unica canzone meno abbordabile ma pur sempre originale con i suoi giri chitarristici.
Altra grande pietra miliare, se così la si può chiamare, è "Black Hole", ottava traccia del disco dal titolo abbastanza ambiguo e nella quale possiamo trovare altri elementi della scuola rude dei Motorhead. Tutti gli altri musicisti suonano veramente da professionisti, molto tecnici e i loro strumenti sembrano ben registrati. Anche il basso si fa sentire prepotentemente in pezzi quali "Honour and Blood" e "Crawlin Under Snakes".

Insomma, un disco che non lascia niente di nascosto, sia nelle tematiche che nel suono sporco, il quale risulta all'orecchio anche molto incisivo e martellante.
I Lucky Bastardz appaiono nella scena metal attuale come un gruppo capace di rompere i soliti dettami musicali, e grazie a questa ultima release, insegnano una volta ancora come dovrebbe essere preso lo spirito di questo grande genere musicale, nato non solo per divertire, ma anche per essere vissuto.
Track by Track
Fire, Beers, Rock'N Roll

80

We Wont Let You Know

75

Sin City

75

Tale From the Land of Mafia

65

Honour and Blood

75

The Ballad of Kelly the Killer

80

Crawlin Under Snakes

70

Black Hole

80

Rock This Town

75

Drunkard

75

Death All Day, Life All

80
Giudizio Confezione
Qualità Audio:

75

Qualità Artwork:

70

Originalità:

75

Tecnica:

80
Recensione di
fabio HC

»
pubblicata il --. Articolo letto
2360
volte.
Articoli Correlati