Irreverence «Target: Hate» (2003)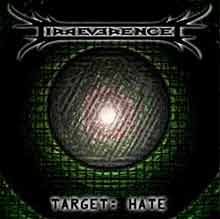 Autore:
Alcio

»
Recensione Pubblicata il:
--
Visualizzazioni:
3824
Band:
Irreverence









Titolo:
Target: Hate
Nazione:
Italia
Formazione:
Ricky (Voce - Chitarra)
Stefano (chitarra)
Mauro (Bass)
Davide (Batteria)
Genere:
Durata:
25' 48"
Formato:
Data di Uscita:
2003
Etichetta:
Distribuzione:
---
Agenzia di Promozione:
---
Recensione
L'agguerrito quartetto milanese si è formato nel lontano 1995, e dopo un paio di demo datati 1998 e 1999, arrivano all'agognato debutto su CD nel 2000, con un disco dal titolo "Totally negative thoughts".
Lo scarso supporto dell'etichetta causò un forte scontento nella band, tanto che due componenti lasciarono il progetto. Dopo i dovuti aggiustamenti di line-up, il gruppo decide di auto-prodursi il disco che gira nel mio stereo, e decide di afre le cose in grande: lo vanno a registrare presso i famigerati Spiderhouse tedeschi, sotto la supervisione del mitico Harris Jones.
La qualità della registrazione è infatti un degno biglietto da visita che aiuta non poco una band che, già in quanto a sonorità e songwriting, sa il fatto suo!
Ma passiamo subito al track-by-track, perché il CD in esame è risultato una bella sorpresa e non vedo l'ora di parlarvene.

Dopo una breve intro a base di rumori di guerra, si parte subito alla grande con "Hate has no Name" un brano tirato che si muove sulla scia di gloriose band del passato come i Kreator (anche nell'impostazione vocale), Death periodo "Leprosy", con spruzzate di Slayer e Sepultura di "Beneath the...". Bell'alternarsi di mosh sspaccacranio, tempi tirati, assoli veloci ma melodici e testi intelligenti che trasudono odio!
Più cadenzato (ma dal riffing intricato) l'inizio di "Red Zone", che però si dipana subito in un bel riffing serrarto e veloce sempre sullo stile caro agli Irreverence. Memorabile il refrain, che vi si stamperà nel cervello.
Un plotone in marcia ci guida dentro il successivo "3092": brano devoto ai Death del secondo disco. Il gruppo risulta molto bravo nel fare affiorare le proprie influenze (innegabili) ma in un ottica molto personale, dimostrando quanto possa valere la pena di avvicinarsi al loro sound.
"Darkening the Light" è un'ulteriore conferma di quanto detto sopra per i pèrecedenti tre brani. Un bel branmo tirato con diversi cambi di tempo e dei mosh da pogo sfrenato nel pit.
"IN Thoughts" è uno strumentale sulla scia di quelli presentati dai Death nei loro ultimi dischi. Un arpeggio sorregge un assolo ispirato dalle atmosfere malinconiche, per poi sfociare in una cavalcato al limite dell'epic, che mi ha fatto tornare alla mente gli strumentali della band che avrebbe fatto bene a sciogliersi nel 1991: i Metallica. Un altro pezzo molto vario ed interessante.
Chiude questo interessantissimo lavoro la cover iper-vitaminizzata di "Pull the Plug" dei Death, davvero ben riuscita anche se ad essere onesto è molto simile all'originale, che palesa se mai ce ne fosse ancora bisogno, qual è il punto di riferimento della band.

Al termine del disco si rimane con un buon sapore in bocca, come dopo avere bevuto dell'ottimo chianti.
Questa band ha molte frecce al proprio arco: una sezione ritmica granitica, un buon solista, buona la voce, ottimo songwriting e (una volta tanto) un ottima produzione.
Non finirò mai di dire che mi rammarico per loro di come la scena sia invece manipolata da band senza mordente che riescono a scucire contratti e date live solo perché copiano spudoratamente qualcuno che tira commercialmente, il tutto a scapito di gruppi più validi ma meno modaioli.
Ai lettori di Metal Wave consiglio di smettere di leggere queste quattro righe e contattare gli Irreverence, perché meritano proprio un posto al sole!
Track by Track
Hate as No Name

80

Red Zone

85

3092

75

Darkening their Light

80

In Thoughts

80

Pull the Plug

80
Giudizio Confezione
Qualità Audio:

70

Qualità Artwork:

70

Originalità:

75

Tecnica:

80
Recensione di
Alcio

»
pubblicata il --. Articolo letto
3824
volte.
Articoli Correlati