Irreverence «Upon These Ashes» (2010)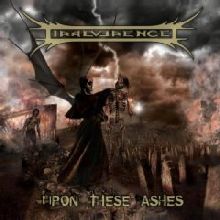 Autore:
Crash

»
Recensione Pubblicata il:
--
Visualizzazioni:
2247
Band:
Irreverence









Titolo:
Upon These Ashes
Nazione:
Italia
Formazione:
Riccardo Paioro - Voce/Chitarra
Luca Colombo - Chitarra
Mauro Passiatore - Basso
Davide Firinu - Batteria
Genere:
Durata:
41' 54"
Formato:
CD
Data di Uscita:
2010
Etichetta:
Distribuzione:
---
Agenzia di Promozione:
---
Recensione
Ingiustamente sottovalutati dai più, ecco qui che tornano instancabili i Thrasher caciaroni e instancabili Irreverence, qui alla terza fatica. Come al loro solito, i ragazzi non si fanno pregare quando si tratta di far male, e in questo Upon These Ashes ogni aspettativa è ben ripagata. I ragazz(on)i pestano di brutto, mischiando nel loro sound Death moderno ed elementi che rimandano immediatamente al Thrash teutonico, chiamando in causa i Kreator, qui eguagliati (se non superati) in cattiveria e soprattutto i Sodom, il cui vocalist Tom Angelripper è addirittura ospite in un brano. Certo, la produzione moderna e piuttosto pulita (ma pompatissima, in particolare per la batteria) sembrano tenere i nostri ben lontani da quelle sonorità anni Ottanta, così come un certo mood *core che conferisce ulteriore potenza al tutto, senza rovinare l'animo old school del lavoro, che per certi versi richiama alla memoria Death'n roll senza compromessi degli inossidabili Master.
Possiamo dire che l'unica pecca è la mancanza di un brano che spicca sugli altri, insomma il livello è alto ma anche maledettamente omogeneo, cosa che impedisce in modo aprioristico l'esistenza di un singolo o del proverbiale "pezzone". Ma non prendetelo come un eufemismo in luogo del fatidico "che palle sto disco": semplicemente ogni brano merita di essere ascoltato e momenti 'bassi' non ce ne sono. Punto.
Gli amanti dell'estremo e i cultori delle band italiane non possono assolutamente fare a meno di questo album. Sul serio.

Track by Track
Not One of Them

75

The Shepherd Dog

70

Hands of Fate

70

The Truth Mask

75

Echoes of War

80

Nothing on my Mind

75

Repentance of God

70

Destructive Deviations

75

Vengeance

70

Instinct Of Death

80
Giudizio Confezione
Qualità Audio:

90

Qualità Artwork:

75

Originalità:

65

Tecnica:

80
Recensione di
Crash

»
pubblicata il --. Articolo letto
2247
volte.
Articoli Correlati