Dperd «Regalerò Il Mio Tempo» (2008)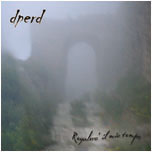 Autore:
Carnival creation

»
Recensione Pubblicata il:
--
Visualizzazioni:
1665
Band:
Dperd




Titolo:
Regalerò Il Mio Tempo
Nazione:
Italia
Formazione:
Carlo Disimone :: Keyboards + Bass + Percussions + Guitar
Valeria Buono :: Vocals + Keyboards
Genere:
Durata:
60' 42"
Formato:
Data di Uscita:
2008
Etichetta:
Distribuzione:
---
Agenzia di Promozione:
---
Recensione
Nati dalle ceneri dei Fear Of The Storm (band anni 90 con alle spalle un paio di album e un demo), i Dperd sono Carlo Disimone e Valeria Buono, due musicisti che devo proprio dire che sono all'altezza di essere definiti tali, in questo mare di "tutti possono far tutto".

L'idea musicale dei nostri ha come intento quello di proporre un Dark Wave "Mediterraneo".. in chiave italiana cioè di tutte quelle sonorità che noi conosciamo bene: Cocteau Twins, ma anche The Cure e This Mortal Coil.
Sound oscuri quindi si ripercuotono per tutto il full-lenght trasportando l'ascoltatore attraverso sì, canali prestabiliti, ma con una serenità che porta alla riflessione di se stessi e questo viene meno soltanto nel momento in cui irrompe l'ultima traccia "Sogni Persi (Perf. By Nen.T.E.)" rielaborata dallo stesso Carlo Disimone in chiave quasi EBM.

Molto affascinante resta comunque sia la voce della singer Valeria, un tocco di contralto non indifferente che "pittura di oscuro" l'intero percorso musicale del cd rendendolo unico.
Ad un primo ascolto potrebbero risultare dannatamente noiosi per orecchie non abituate a ritmi e sonorità lente, ma bisogna rischiare! Un ascolto se lo meritano eccome!
Bravissimi!
Track by Track
Cuore Malato

75

Come Sarà

76

Per Tutto Quello

80

Alli (de)

65

Il Buono Il Brutto e L'Oscuro

62

Sogni Persi

65

Dimentica

70

Chiudo Gli Occhi

75

Piango

78

Regalerò Il Mio Tempo

80

Stropicciala

69

Sogni Persi (Perf. By Nen.T.E.)

80
Giudizio Confezione
Qualità Audio:

75

Qualità Artwork:

70

Originalità:

70

Tecnica:

75
Recensione di
Carnival creation

»
pubblicata il --. Articolo letto
1665
volte.
Articoli Correlati