UMA FEST: date, locations ed headliners della seconda edizione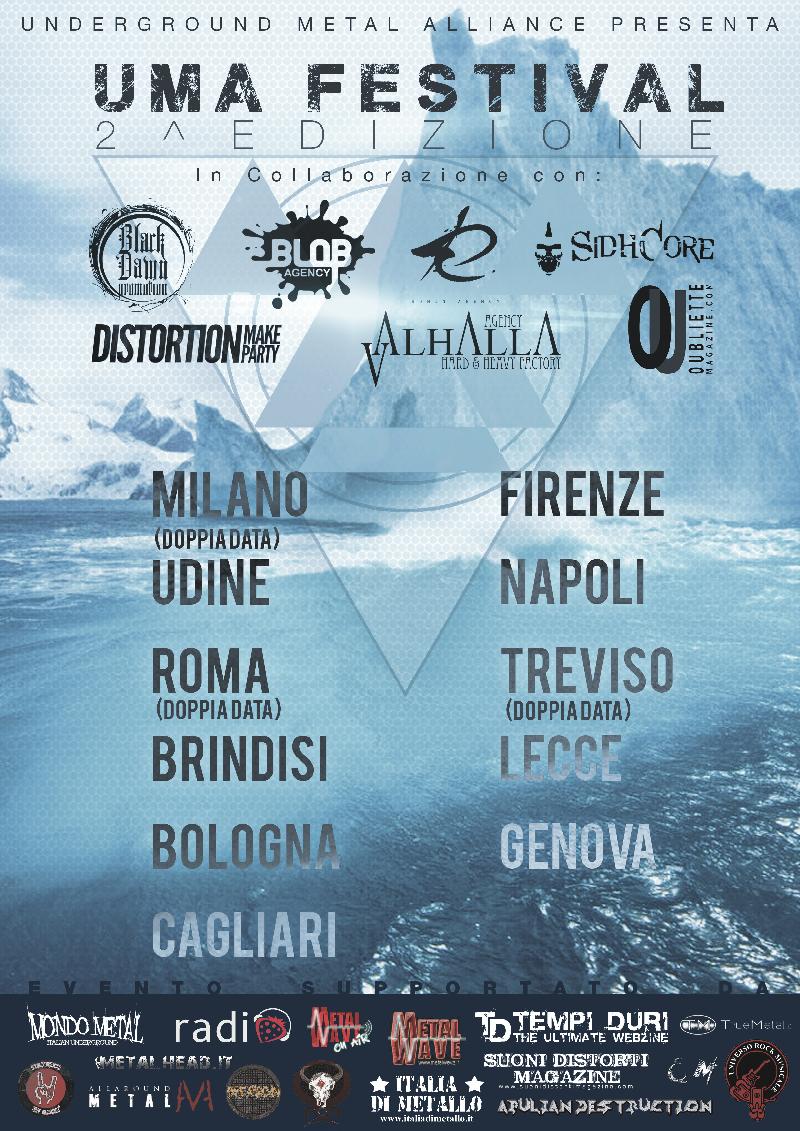 L'Underground Metal Alliance, in collaborazione con:
Blackdawn Promotion, Blob Agency, Distortion Make Project, Oubliette Magazine, Ronin Agency e Sidhcore Agency
Presenta: UMA FEST – Edizione 2
L'UMA FEST, evento unico nel suo genere in Italia, è un festival itinerante che attraversa la nazione dedicato esclusivamente al rock/metal underground italiano, dove i protagonisti sono i migliori gruppi delle regioni attraversate dal fest. Quest'anno il festival toccherà 9 Regioni e 10 città, per un totale di 13 date, con ottimi fotografi a immortalare le serate e innumerevoli partners a supportare l'evento, per uno show che vuole mostrare a piu gente possibile l'alto valore delle nostre band e dare all'Underground uno spazio sui migliori palchi d'Italia.
Qui di seguito l'elenco di tutte le tappe del Fest, con tutte le date, le città, i locali e gli headliners. Molto presto verranno svelati anche i nomi delle band di apertura:
30 Gennaio : MILANO c/o Rock On The Road
Headliners: Burn After Me
1 Febbraio : UDINE c/o Piper Club
Headliners: Overtures
28 Febbraio : ROMA c/o Defrag
Headliners: Infernal Poetry
15 Marzo : BOLOGNA c/o Caos Rock Club
Headliners: Malnatt + In Tormentata Quiete
29 Marzo : CAGLIARI c/o Cueva Rock
Headliners: Terrorway
12 Aprile : FIRENZE c/o Cycle
Headliners: Rexor
19 Aprile : NAPOLI c/o George Best (Ex Sudterranea)
Headliners: Poemisia
26 Aprile : TREVISO c/o Primula Rossa
Headliners: Mothercare
10 Maggio : LECCE c/o Istanbul Cafè
Headliners: Elegy Of Madness
7 Giugno : GENOVA c/o Crazy Bull
Headliners: Desecrate
28 Giugno : TREVISO c/o Primula Rossa
Headliners: Klogr
5 Luglio : MILANO c/o Blue Rose Saloon
Headliners: Wake Arkane
(La seconda data romana verrà annunciata a inizio 2014)
Evento Supportato da All Around Metal, Apulian Destruction, Band Italiane Rock E Metal, Breakdown, Comunità Metallara, Italia Di Metallo, Metal Head, Metal Wave, Metal Wave On Air, Metallus, Mondo Metal, Notturno Metal, Radio Fragola, Rollin Radio, Suoni Distorti Magazine, Tempi Duri, True Metal, Universo Rock Musicale, We Rock.
Teaser:
https://www.youtube.com/watch?v=ipBO0HmPZN8
Underground Metal Alliance:
http://www.undergroundmetalalliance.com/
https://www.facebook.com/undergroundmetalalliance
UMA FEST
https://www.facebook.com/UmaFest
Inserita da:
Jerico
il 23.12.2013 - Letture:
2084
Articoli Correlati
Altre News di MetalWave
Notizia Precedente
Notizia Successiva