GODS OF GRIND PT. II: i dettagli della serata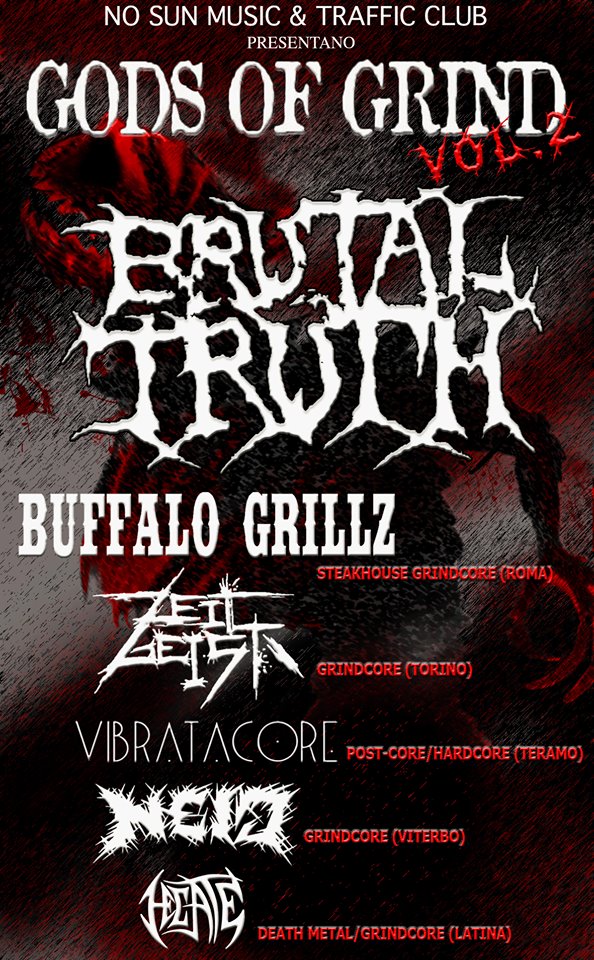 No Sun Music & Traffic, in collaborazione con Hard Staff presentano:
Martedì 10 dicembre
Dopo la prima edizione dello scorso anno con Napalm Death, Nasum, Wormrot e molti altri, ecco il secondo appuntamento con il Gods of Grind! Questa volta sarà un'unica giornata e l'headliner sarà un gruppo storico della scena death/grind: BRUTAL TRUTH!!
Ad accompagnarli gli immancabili BUFFALO GRILLZ, i torinesi ZEIT GEIST, VIBRATACORE, NEID E HECATE!
DETTAGLI:
Brutal Truth (death/grind, USA, Relapse Records)
http://www.youtube.com/watch?v=bluqgbBs3X4
buffalogrillz (death/grind, Subsound Records)
http://www.youtube.com/watch?v=adkt3Ch3iPE
ZEIT GEIST (grindcore)
http://www.youtube.com/watch?v=5tMexMzyGu0
vibratacore (post-hardcore, Audiozero)
http://www.youtube.com/watch?v=W1qYkRn8FaQ
Neid (grindcore, RA Records)
http://www.youtube.com/watch?v=d9ruxlXJxYk
Hecate (death/grind)
http://www.youtube.com/watch?v=GD-ggYA-9is
@ Traffic Club
Via Prenestina 738 00155 Roma
info@trafficlive.org
CONSULTA IL NOSTRO SITO SU COME ARRIVARE
http://www.trafficlive.org
Sponsored by:
Concerti A Roma:
http://www.facebook.com/groups/concertiaroma
Emp:
http://www.emp-online.it/
Metalitalia:
http://www.metalitalia.com
Metal Skunk:
http://metalskunk.com/
Yama Tattoo:
https://www.facebook.com/pages/Yama-Tattoo-Studio/147271831993207
MAGGIORI INFORMAZIONI IN ARRIVO
http://www.nosunmusic.com
info@nosunmusic.com
concertiaroma@gmail.com
Inserita da:
Jerico
il 21.10.2013 - Letture:
1188
Articoli Correlati
Altre News di MetalWave
Notizia Precedente
Notizia Successiva