SUMMER CORE FEST: grande evento organizzato dai DISMAL FAITH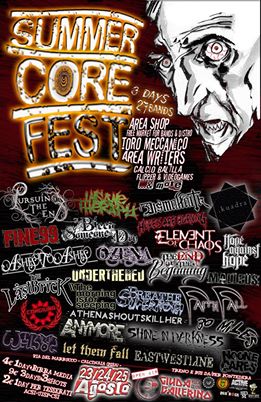 I Dismal Faith, freschi dell'uscita per Nadir Music dell'ottimo debut "Morph", hanno organizzato un'incredibile tre giorni all'insegna del Core più diretto e "spietato": 27 le band in campo, in arrivo da tutta Italia, che si alterneranno sul palco del Giuda Ballerino di Calcinaia (Pisa) il 23, 24 e 25 Agosto,
esplorando davvero tutti i gusti e i "colori" del genere con inizio venerdì 23 Agosto alle ore 20.00 puntuali.
I potentissimi Kuadra saranno gli headliners annunciati della prima serata, ad aprire la quale ci saranno invece i No One Cares e i Shine In Darkness, andando poi a pestare sempre più duro con FaithFall, fino a lasciarsi contagiare dall'estro schizopotico degli Under The Bed e dalla Polverina degli Ashes To Ashes...
Gli altri due giorni inizieranno invece alle 15.00 all'aperto, con Toro Meccanico, Area Writer, FreeDistro e FreeMarket, con una vastissima scelta di food & drinks oltrechè, naturalmente, di ottime band…
Circa 24 ore di musica in 3 strepitose giornate al prezzo assolutamente popolare di 9 Euro.
Ecco la line-up completa:
----day ONE---
KUADRA (VIGEVANO-PV)
ASHES TO ASHES (GENOVA)
UNDER THE BED (MONTECATINI-PT)
FAITHFALL (PISTOIA)
SHINE IN DARKNESS (ANCONA)
NO ONE CARES (PISTOIA)
----day TWO---
FINE99 (BRESCIA)
ELEMENT OF CHAOS (ROMA)
DISMAL FAITH (EMPOLI)
BLEED SOMEONE DRY (PISTOIA)
OZENA (FIRENZE)
HOPE AGAINST HOPE (ROMA)
CONGIURA (L'AQUILA)
THE LAST BRICK OF PRESENT (BARI)
HOPES ARE BURNING (VITERBO)
OTHISMOS (MONTEPULCIANO)
30MILES (FIRENZE)
----day THREE---
PURSUING THE END (PARMA)
INSANE THERAPHY (PESCARA)
ANYMORE (BERGAMO)
THE MORNING IS FOR SLEEPING (LATINA)
THE END AT THE BEGINNING (BOLOGNA)
MALLEUS (GROSSETO)
ATHENA SHOUTS KILLS HER (FORTE DEI MARMI-LU)
BREATHE THE SUPERNOVA (VERONA)
LET THEM FALL (GROSSETO)
EASTWEST LINE (VALDARNO)
Inserita da:
Jerico
il 20.08.2013 - Letture:
2195
Articoli Correlati
Concerti
Spiacenti!

Non sono disponibili concerti correlati.
Altre News di MetalWave