INFERNAL FORCES 2018: HYPOCRISY, KATAKLYSM, IMPALED NAZARENE, ENTHRONED e altri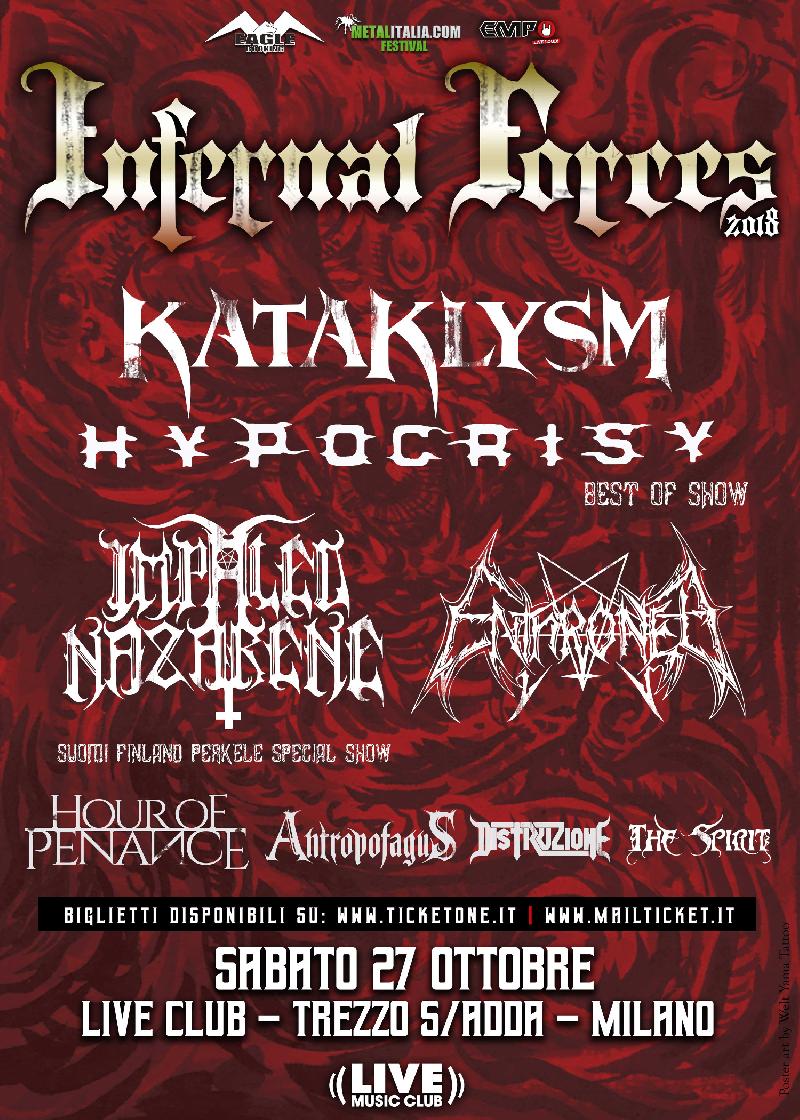 Dopo il successo del Metalitalia.com Festival, la cui edizione 2018 è attualmente in fase di preparazione, Metalitalia.com ed Eagle Booking sono liete di annunciare il cast dell'INFERNAL FORCES, nuovo evento dedicato unicamente al metal estremo!
Otto le band che si alterneranno Sabato 27 ottobre 2018 sul palco del Live Music Club di Trezzo sull'Adda (MI), per un mix tra death e black metal assolutamente devastante.
Co-headliner, e quindi con minutaggio uguale, si esibiranno in unica data italiana i deathster canadesi KATAKLYSM, che saranno impegnati nel tour promozionale del loro nuovo album "Meditations" in uscita a giugno per Nuclear Blast, e le leggende del death svedese HYPOCRISY, i quali torneranno sui palchi dopo vari anni di assenza con un best of show celebrativo della loro carriera costellata di capolavori.
Li precederà una doppietta dedicata al black metal più corrosivo, composta dai famigerati finlandesi IMPALED NAZARENE, che suoneranno in esclusiva per l'Italia l'intera pietra miliare "Suomi Finland Perkele", e dai belgi ENTHRONED, realtà consolidata della scena europea che vanta album di prima grandezza rilasciati tanto negli anni Novanta quanto nel nuovo millennio!
Prima di loro un tris d'eccellenza per il death metal italiano: HOUR OF PENANCE, ANTROPOFAGUS e DISTRUZIONE. Apriranno le danze i black metaller tedeschi THE SPIRIT, scelti da KATAKLYSM e HYPOCRISY come compagni di tour.
Come ogni festival marchiato Metalitalia.com, sarà possibile incontrare gli artisti sul posto in meet&greet gratuiti e aperti a tutto il pubblico con le band che daranno la disponibilità e trovare una selezione di stand e venditori di CD, merchandise e articoli musicali vari. Il Live Club ha inoltre potenziato la propria offerta per quanto riguarda la ristorazione e sul posto troverete vari punti ristoro con un assortimento di cibi tradizionali e vegani.
L'artwork per il poster è stato curato da Welt, noto tatuatore romano dello Yama Tattoo Studio.
INFERNAL FORCES 2018
Sabato 27 ottobre 2018
Live Music Club - Trezzo sull'Adda (MI)
KATAKLYSM (unica data italiana)
HYPOCRISY (best of show - unica data italiana)
IMPALED NAZARENE (special "Suomi Finland Perkele" show)
ENTHRONED (unica data italiana)
HOUR OF PENANCE
ANTROPOFAGUS
DISTRUZIONE
THE SPIRIT
Evento Facebook:
http://www.facebook.com/events/2042759475993745/
BIGLIETTI:
Prezzo del biglietto in prevendita: €35 + dp
Prezzo del biglietto in cassa la sera dello show: €40
Prevendite disponibili su Ticketone e Mailticket
INFO:
http://www.metalitalia.com
http://www.liveclub.it
http://www.eaglebooking.com
SUPPORTED BY:
EMP Mailorder Italia
Inserita da:
Jerico
il 04.04.2018 - Letture:
748
Articoli Correlati
Altre News di MetalWave
Notizia Precedente
Notizia Successiva