RHAPSODY OF FIRE, TRICK OR TREAT, TEMPERANCE, FROZEN CROWN: una data al Druso di Bergamo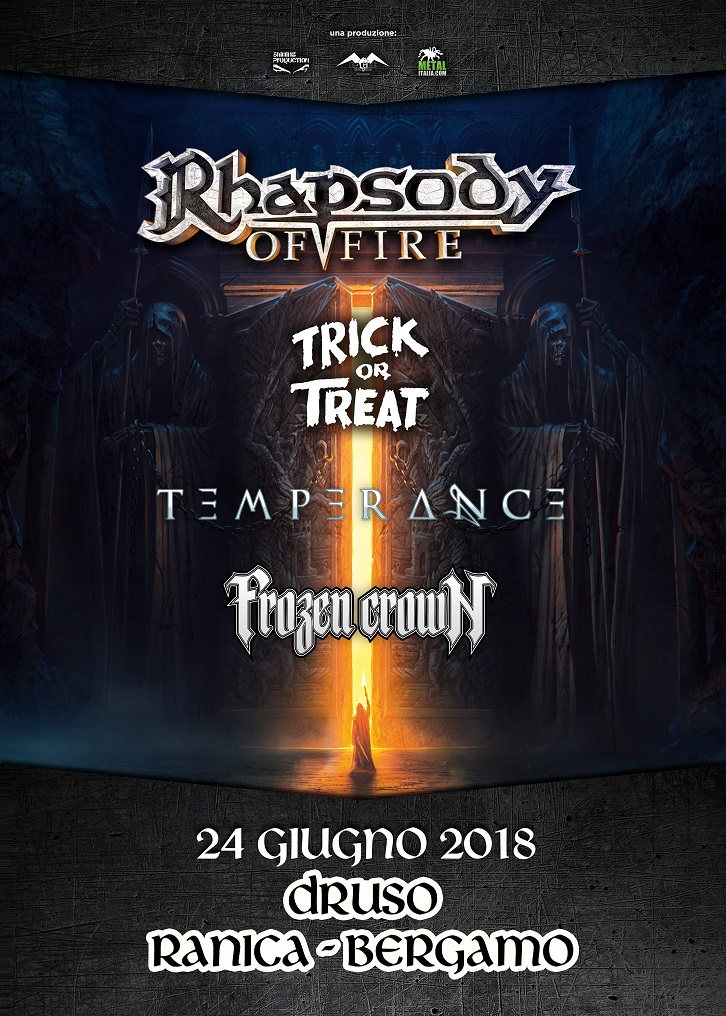 Eagle Booking, Shining Production e Metalitalia.com presentano:
Dopo la grande esibizione al Metalitalia.com Festival 2017, i RHAPSODY OF FIRE di Alex Staropoli con il fenomenale Giacomo Voli alla voce tornano in Lombardia Domenica 24 giugno 2018 per uno show al Druso di Ranica, Bergamo! La symphonic power metal band capostipite del genere proporrà un set dei grandi classici che l'hanno resa famosa e che ha rivisitato lo scorso anno con il best of "Legandary Years".
Con loro i TRICK OR TREAT di Alessandro Conti, che hanno da poco pubblicato l'album di cover "Re-Animated" riscuotendo un ottimo successo, e i TEMPERANCE che a breve presenteranno la nuova formazione e il nuovo disco "Of Jupiter And Moons" in uscita il 20 aprile.
In apertura i newcomer FROZEN CROWN, freschi di pubblicazione dell'album di debutto "The Fallen King".
I dettagli della data:
Domenica 24 giugno 2018
Druso – Ranica, Bergamo
http://www.drusoblog.it
RHAPSODY OF FIRE
TRICK OR TREAT
TEMPERANCE
FROZEN CROWN
Evento Facebook:
http://www.facebook.com/events/156044808429286/
BIGLIETTI:
20 € + prevendita
25€ in cassaPrevendite disponibili su Ticketone e Mailticket
Inserita da:
Jerico
il 27.02.2018 - Letture:
1167
Articoli Correlati
Altre News di MetalWave