BURNING RUINS METAL FEST 5.0 WARM UP: i dettagli dell'evento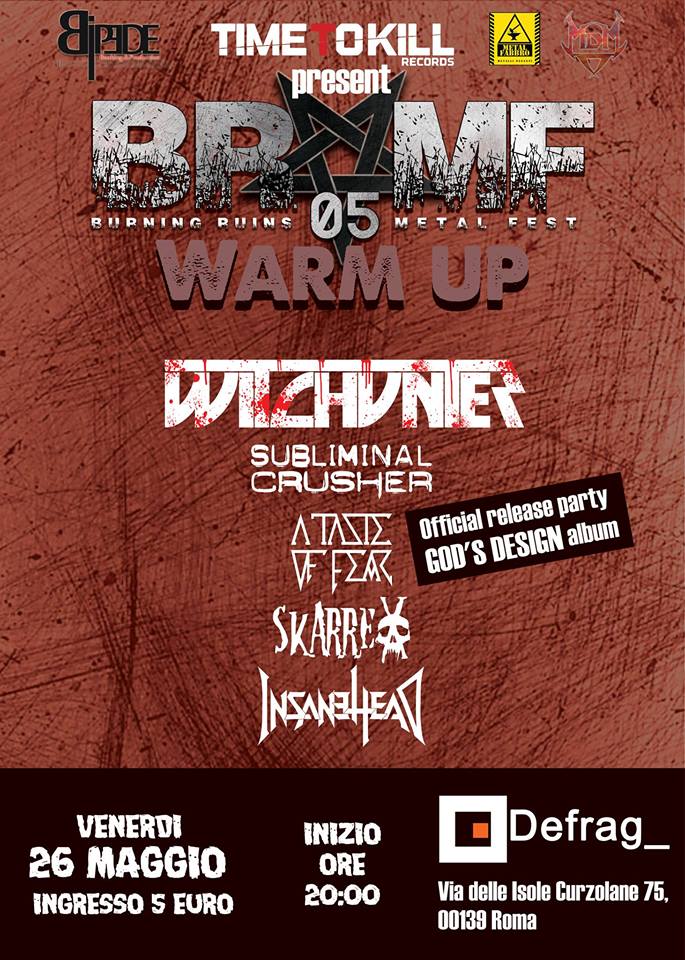 BURNING RUINS METAL FEST 5.0 WARM UP
cominciate a scaldare i muscoli e preparatevi all'inferno!
5 motivi per non mancare:
1_ Insanehead - Fuckin'Metal band (Thrash Metal core - Roma) :: LA BAND NASCE NEL NOVEMBRE 2011. DOPO 2 ANNI DI CONCERTI E DISTRUZIONE IL CANTANTE, CON LA SUA VOCE PULITA E ANGELICA, LASCIA IL POSTO AD UN NOSTRO NUOVO FRATELLO, DAVIDE BRECCIA. CAMBIO TOTALE DI VOCE DA PULITO ANGELICO A SCREAM E GROWL CHE SEMBRANO RISALIRE DALLE CENERI DELL'INFERNO.
2_ SkarreX (Nu metal groove - Amelia) :: UN OTTIMO MIX DI GENERI E UN'INCREDIBILE FORZA D'URTO CARATTERIZZANO IL LORO NU METAL DOVE SI RIESCONO A INTUIRE LE LORO ISPIRAZIONI PANTERA SOULFLY, SLIPKNOT, KORN, MACHINE HEAD, GODSMACK.
3_ A TASTE OF FEAR (Technical Death Metal - Roma) :: GOD'S DESIGN RELEASE PARY, IL NUOVO LAVORO DELLA BAND ROMANA!!!
4_ Subliminal Crusher (Thrash Death - Terni) :: LA STORICA BAND THRASH DEATH FORMATASI NEL 2002 TORNA SUL PALCO DEL DEFRAG AD INFIAMMARE GLI ANIMI CON LA VIOLENZA DEI SUOI BRANI
5_ Witchunter (Heavy/Speed Metal - Villa rosa) :: ALTRA STORICA BAND, CAVALIERI DELL'HEAVY METAL CHIUDERANNO DA HEADLINER LA SERATA, CON IL LORO NUOVO LAVORO "BACK ON THE HUNT"!!!
Evento promosso da:
Burning Ruins Metal Fest
Time To Kill Records
INGRESSO € 5.00
Inserita da:
Jerico
il 06.05.2017 - Letture:
1374
Articoli Correlati
Altre News di MetalWave