OVER THE NOISE FESTIVAL: i dettagli della nona edizione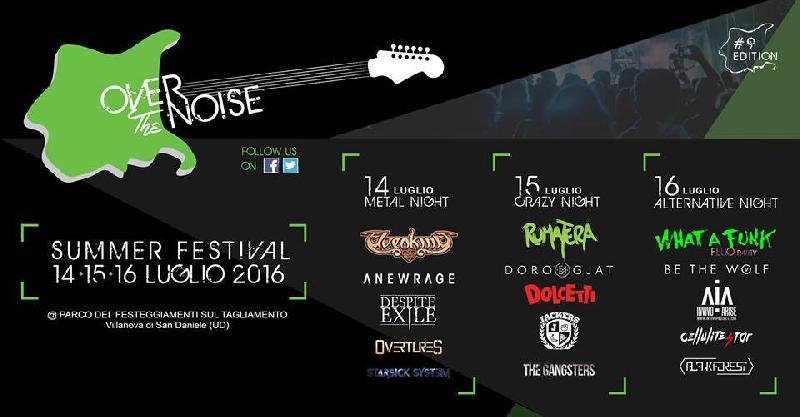 Torna per la nona edizione l'Over The Noise Festival, importante appuntamento live che quest'anno si terrà dal 14 al 16 Luglio nella cornice del Parco dei Festeggiamenti Sul Tagliamento, a Villanova di San Daniele (UD). Un festival che copre a 360° tutte le sfumature del Rock e del Metal.
Tra i protagonisti dell'evento, ci saranno anche Anewrage, What a Funk e Be The Wolf.
Gli Anewrage saliranno sul palco dell'Over The Noise Giovedì 14 per la Metal Night. La band è in procinto di ripubblicare per Scarlet il debuto album "ANR", in uscita il 26 Agosto. Sabato 16 Luglio invece avremo i torinesi Be The Wolf, di ritorno da una serie di date sold out in Giappone, e i What A Funk con il loro Fluo Party e i brani del nuovo album "This Is An Album!"
OVER THE NOISE Festival
Giovedì 14 Luglio - Metal Night w/ ELVENKING + ANEWRAGE + Despite Exile + Overtures + Starsick System
Venerdì 15 Luglio - Crazy Night w/ RUMATERA + CARNICATS + Doro Gjat + The Gangsters + Jackers + Dolcetti
Sabato 16 Luglio - Alternative Night w/ WHAT A FUNK + BE THE WOLF + Invivo + Cellulite Star + Blank Forest
INGRESSO GRATUITO
Evento FB:
https://www.facebook.com/events/158030307944791/
Maggiori Info sul Festival:
- Happy Hour ogni giorno dalle 18:00 alle 20:00
- Spazi coperti in caso di pioggia
- Servizi con docce
- Ampia area parcheggio
Inserita da:
Jerico
il 16.07.2016 - Letture:
1883
Articoli Correlati
Concerti
09 Set. 2022

Elvenking + Furor Gallico + Vexillum @ "Legend Club", Milano (MI)

09 Set. 2022

LOUD AND PROUD FEST 2022: Elvenking + Furor Gallico + more tba @ "Legend Club", Milano (MI)

17 Ago. 2022

As I Lay Dying + Lorna Shore + Ten56 + Despite Exile @ "Dissonance Park", Padova (PD)
Altre News di MetalWave
Notizia Precedente
Notizia Successiva