CIRCLE OF WITCHES: prossimi alla trasferta in Germania accanto a DARK TRANQUILLITY e DECAPITATED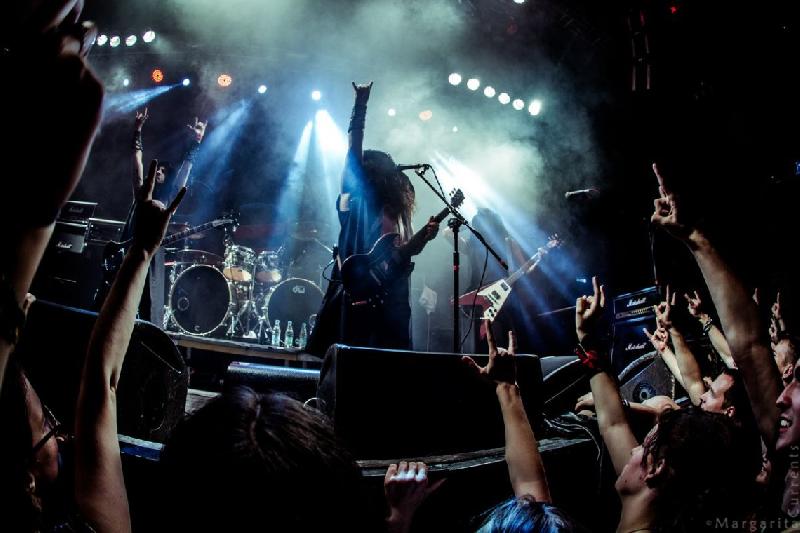 Prossimi alla trasferta i CIRCLE OF WITCHES. La band heavy metal doom italiana si esibirà il prossimo 16 giugno al METAL FRENZY festival in Germania accanto a band quali DARK TRANQUILLITY e DECAPITATED. Per la prima volta sul suolo tedesco, i Circle sono stati fra i primi a rispondere un anno fa al richiamo degli organizzatori.
Il festival, arrivato alla sua terza edizione, ha luogo nella cittadina di GARDELEGEN nel cuore della Germania. Nella sua breve storia vanta già headliner di prestigio come EXODUS, DYING FETUS, MADBALL, VADER, SIX FEET UNDER, GOD DETHRONED, CALIBAN, GRAVE DIGGER, protagonisti delle passate edizioni. Quest'anno sarà la volta di band del calibro di OVERKILL, NAPALM DEATH, SODOM e PRIMAL FEAR. Per l'occasione, i Circle of Witches hanno preparato una selezione di brani da "Rock the Evil" e dal nuovo album, ancora in preparazione, per offrire uno spettacolo carico di heavy metal agli appassionati tedeschi.
"Siamo molto legati alla Germania" ha dichiarato il frontman Mario Bove "sia dal punto di vista musicale perché fra i nostri gruppi preferiti ci sono KREATOR, DESTRUCTION, ACCEPT o BLIND GUARDIAN, giusto per citarne alcuni, ma soprattutto perché" ha aggiunto "la prova del fuoco sui palchi più grandi l'abbiamo avuta aprendo i concerti di DORO e UDO lo scorso anno in Russia. Sappiamo bene", ha poi concluso "che il pubblico tedesco è uno dei più esigenti e preparati della scena. Questo non può che caricarci ulteriormente.".
Intanto si è conclusa anche l'ultima sessione di registrazione del nuovo album che i Circle of Witches daranno a breve alle stampe. Ora passa tutto alla fase di mixing. Ulteriori news su titoli, dettagli di produzione e uscita saranno rilasciati nelle prossime settimane.
I CIRCLE OF WITCHES sono
Mario HELL Bove – Voce principale e chitarra
Anthes DARKBLOOD Aliberti – chitarra solita e cori
Joe EVIL Caputo – basso e cori
Joey HELMET Coppola – batteria e cori
http://www.circleofwitches.com
http://www.facebook.com/circleofwitches
Video Estratto dal Live in Mosca 2015
https://www.youtube.com/watch?v=txDpDdEkBO4
METAL FRENZY
http://www.metal-frenzy.de/eng
Inserita da:
Jerico
il 12.06.2016 - Letture:
1174
Articoli Correlati
Interviste
Spiacenti!

Non sono disponibili Interviste correlate.
Live Reports
Spiacenti!

Non sono disponibili Live Reports correlati.
Altre News di MetalWave
Notizia Precedente
Notizia Successiva