CIRCLE OF WITCHES: pronto il video di "Rock the Evil"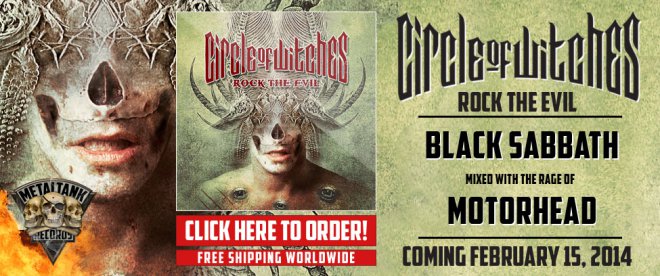 I CIRCLE OF WITCHES, trio stoner heavy metal salernitano, stanno per lanciare il primo video tratto dall'album ROCK TH EVIL, in uscita per METAL TANK RECORDS il 15 febbraio 2014. La canzone scelta è la frenetica title track che in poco più di 3 minuti mostra un carosello infernale di dannati del rock 'n' roll al cospetto della band e di un seducente diavolo.
Per la realizzazione del clip, i Circle of Witches si sono affidati alla Clever Production di Giovanni Paglioli, anche lui salernitano, autore di diversi videoclip musicali e di una web serie per il Giffoni Film Festival.
Il video segue la pubblicazione il esclusiva del brano "Hell 'n' Roll" su METAL SHOCK FINLAND come anteprima dell'album. La premiere ha superato in poche settimane le 50.000 visualizzazioni e ha ricevuto l'entusiastica accoglienza di Ali Blackdiamond, direttore del magazine scandinavo.
contatti
http://www.circleofwitches.com
-www.facebook.com/circleofwitches -
http://www.metaltankrecords.com
#EvilIsComing #Metal #Rock #Stoner
Inserita da:
Jerico
il 11.01.2014 - Letture:
1382
Articoli Correlati
Interviste
Spiacenti!

Non sono disponibili Interviste correlate.
Live Reports
Spiacenti!

Non sono disponibili Live Reports correlati.
Concerti
Spiacenti!

Non sono disponibili concerti correlati.
Altre News di MetalWave
Notizia Precedente
Notizia Successiva