SOUTH OF HEAVEN FEST: i dettagli dell'evento con headliner gli americani COVEN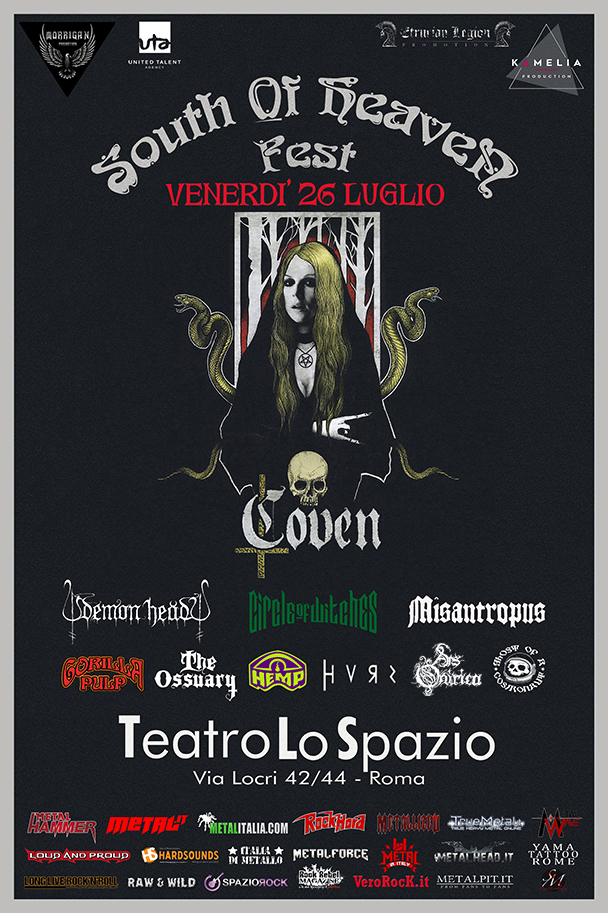 Morrigan Promotion, Etrurian Legion Promotion & Kamelia Production sono fieri di presentare:
SOUTH OF HEAVEN FEST
Il più grande Festival Doom & Stoner in Italia che vedrà come headliner dell'evento gli americani COVEN, la band della carismatica Jinx Dawson che si esibirà per la prima volta in assoluto su suolo Italico a 50 anni dall'uscita del loro capolavoro "Witchcraft Destroys Minds and Reaps Souls" pubblicato nel 1969 e sul quale è incentrato questo tour Europeo.
Insieme con Black Widow furono i primi ad usare rituali magici nelle loro esibizioni, pionieri assoluti e fonte di ispirazione per centinaia di bands, basti pensare che quando i Black Sabbath esordirono con il loro primo album la rivista Rolling Stones li definì " la risposta inglese ai Coven".
Oltre a loro all'interno del festival ci saranno le seguenti band :
DEMON HEAD, band danese che propone un affascinante mix di doom e occult rock che come un novello Caronte conduce in un viaggio oscuro nei meandri dell'anima
CIRCLE OF WITCHES, band fautrice di un energico heavy doom con all'attivo centinaia di concerti, diverse demo, due Ep e tre full lenght.
MISANTROPUS, storica doom band italiana attiva dal lontano 1998, un nome che ha saputo conquistarsi un posto nel gotha del doom eurepeo.
GORILLA PULP, con il loro sound in bilico tra heavy e stoner con influenze psych e hard rock di matrice settantiana ed un innata attitudine live.
THE OSSUARY, band nata dalle ceneri dei Natron, leggendaria death metal band italiana, influenzati dal classico 70's heavy con radici blues, dal doom e dal prog, il loro è il blues dell'oltretomba.
HEMP, stoner doom band devota al suono oscuro dei padrini del doom Black Sabbath, un sound tirato e muscolare fatto di riff potenti, fuzz e melodie che si insinuano nel cervello.
HURZ, formati da ex membri dei Tiresia Raptu, Doomraiser e Sesta Marconi,dediti in questo nuovo progetto ad un Ritual/Ambient fatto di sintetizzatori, moog ed effetti vari che catapultano l'ascoltatore in un rituale pagano al tramonto.
ARS ONIRICA, nati nel 2003 come band death metal si sono poi evoluti verso un depressive black doom che ingloba in se la matrice metal scandinava e la vena atmosferica e sperimentale di band come i Katatonia e Opeth.
GHOST OF A COSMONAUT, power trio stoner doom formato da ex membri di The Foreshadowing, Doomraiser e Belladonna, un sound fatto di atmosfere desertico oniriche a ritmiche palustri ossessive
Il SOUTH OF HEAVEN FEST si terrà Venerdì 26 Luglio nella splendida cornice del TEATRO LO SPAZIO situato nel cuore di Roma a due passi dalla centralissima Piazza San Giovanni, quindi aria condizionata a palla per spegnere la calura, food&drink a prezzi modici e tanta tanta musica !!!! Saranno inoltre presenti diversi stand a tema esoterico, merchandise e ovviamente cd ed lp. Non mancate!!!
APERTURA PORTE ORE 16:00
START SHOW ORE 17:00
INGRESSO € 25
LINK EVENTO:
https://www.facebook.com/events/352099858832262
Inserita da:
Jerico
il 06.06.2019 - Letture:
1283
Articoli Correlati
Altre News di MetalWave
Notizia Precedente
Notizia Successiva