CIRCLE OF WITCHES: ospiti del "Daeva Stoner Festival"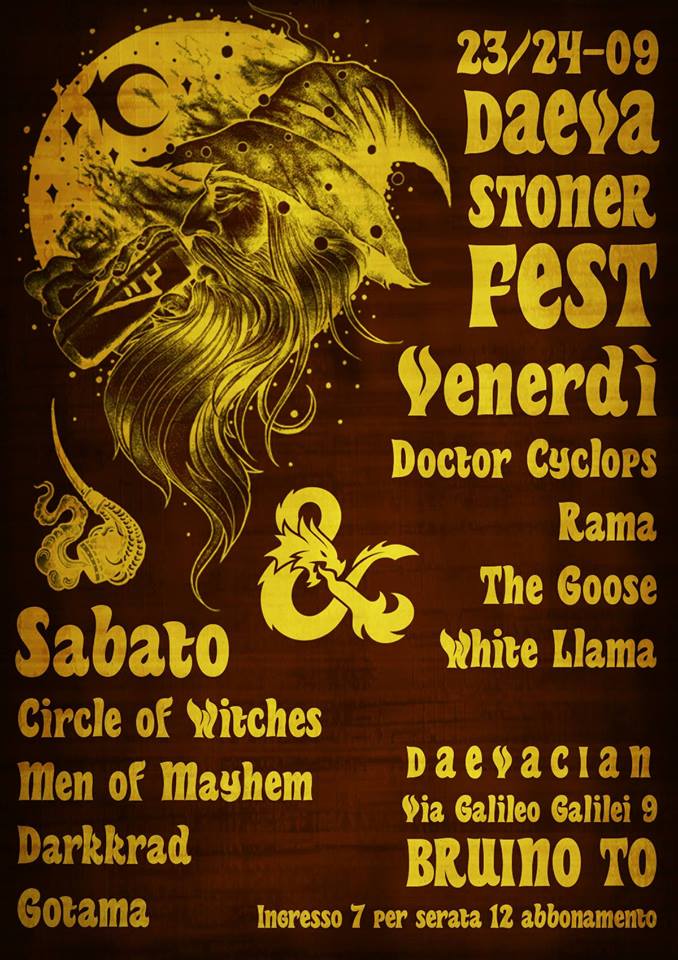 Prosegue l'attività live dei CIRCLE OF WITCHES. Dopo un intenso luglio che li ha visti toccare diverse città campane e l'Agglutination Warm Up a Potenza, sabato 24 settembre la band heavy metal doom sarà il main guest nel secondo giorno del DAEVA STONER FESTIVAL, in provincia di Torino. A scaldare il pubblico della sala concerti Daevician, le stoner band Men of Mayhem, DarkkraD e Gotama, tutte provenienti dal capoluogo.
La rapida incursione al nord verrà seguita da una tappa in casa con il concerto dell'8 ottobre al Mumble Rumble, storico locale per concerti di Salerno. Qui il quartetto verrà preceduto dai doomsters Paradòs e dal metal core degli Shipwrecked.
I Circle of Witches porteranno in scena alcuni dei brani incisi sul prossimo "Natural Born Sinners", più orientati dei precedenti verso l'heavy metal di JUDAS PRIEST, BLACK SABBATH e GRAND MAGUS. L'album, terzo full nella carriera del gruppo, è in fase di missaggio presso gli ALPHA OMEGA STUDIOS e dovrebbe vedere la luce nei primi mesi del 2017.
I CIRCLE OF WITCHES sono
Mario HELL Bove – Voce principale e chitarra
Anthes DARKBLOOD Aliberti – chitarra solita e cori
Joe EVIL Caputo – basso e cori
Joey HELMET Coppola – batteria e cori
http://www.circleofwitches.com
http://www.facebook.com/circleofwitches
Video Estratto dal Live in Mosca 2015
https://www.youtube.com/watch?v=txDpDdEkBO4
DAEVA STONER FESTIVAL
https://www.facebook.com/events/1785662028377420
Inserita da:
Jerico
il 24.09.2016 - Letture:
1373
Articoli Correlati
Interviste
Spiacenti!

Non sono disponibili Interviste correlate.
Live Reports
Spiacenti!

Non sono disponibili Live Reports correlati.
Concerti
Spiacenti!

Non sono disponibili concerti correlati.
Altre News di MetalWave