GAMAMETAL: terza edizione questo weekend con 18 band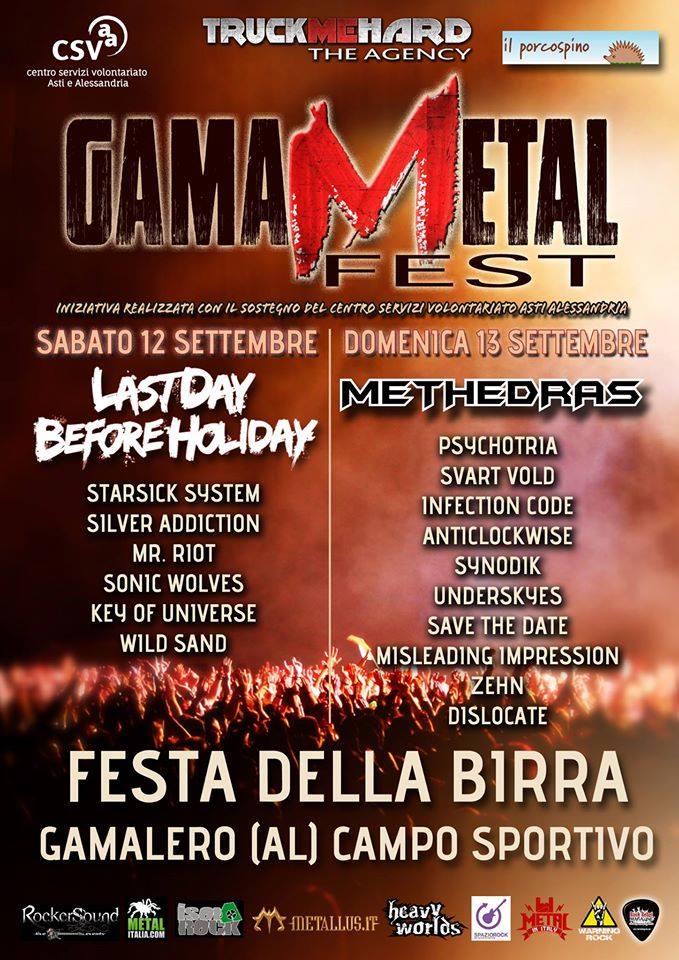 Arriva alla terza edizione il GAMAMETAL, festival rock-metal gratuito in provincia di Alessandria
Dopo aver portato on stage band come MORTUARY DRAPE, READY SET FALL, HATETYLER, DAMNED SPRING FRAGRANTIA e molti altri , ancora una volta Truck Me Hard presenta 18 tra le band più interessanti della scena MADE IN ITALY!
Di seguito ecco il bill delle due giornate diviso equamente con un sabato più orientato sul rock e la domenica votata al metal più pesante ( thrash, djent, core)
SABATO 12 SETTEMBRE
Last Day Before Holiday
Starsick System
Silver Addiction
Mr. Riot
Sonic Wolves
Key Of Universe
Wild Sand
DOMENICA 13 SETTEMBRE
Methedras
Psychotria
Svart Vold
Infection Code
Anticlockwise
Synodik
Underskyes
Save The Date
Misleading Impression
Zehn
Dislocate
Quest'anno , in collaborazione con l'azienda alessandrina CANEDIGUERRA, il Gamametal diventa anche FESTA DELLA BIRRA, con tre tipi di birre artigianali tra i migliori e più pregiati della nostra penisola!
Non mancate!
Sabato 12 e domenica 13 settembre
INGRESSO GRATUITO!
Campo Sportivo - Gamalero (AL).
Inserita da:
Jerico
il 11.09.2015 - Letture:
1565
Articoli Correlati
Altre News di MetalWave