«The Big 4»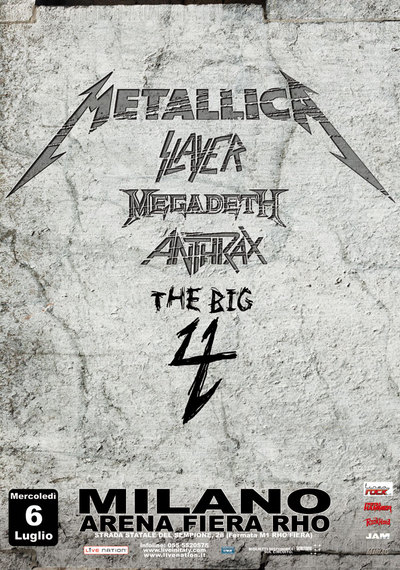 Data dell'Evento:
06.07.2011
Nome dell'Evento:
The Big 4
Band:
Metallica
Slayer
Megadeth




Anthrax
Luogo dell'Evento:
Arena Fiera Milano
Città:
Rho (MI)
Promoter:
Live Nation

Autore:
Theclairvoyant

»
Visualizzazioni:
2255
Live Report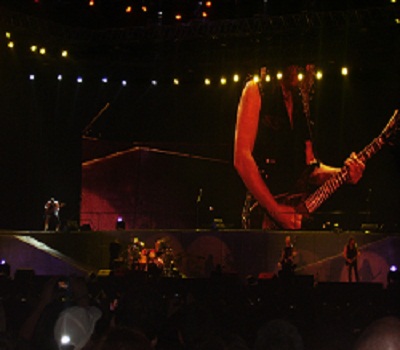 Giunto in quel di Milano nella tarda mattinata per via di problemi ferroviari e accompagnato da un caldo torrido, mi avvio in coda per l'entrata nell'Arena; il pubblico è già numeroso in fila, ma stranamente e con molto stupore non vi sono stati i disagi tipici delle entrate come, ad esempio, la forte pressa che non è solita mancare nel nostro paese. Dopo un lungo rettilineo vedo stagliarsi di fronte a me l'enorme palco con su pronta la scenografia degli Anthrax, con il telone di Among The Living ed arrivate le 16:30 eccoli uscire sullo stage, tra gli applausi di tutti, senza la presenza di Scott Ian (poiché è da poco diventato padre) ed al suo posto il guitar man Andreas Kisser, chitarra storica dei Sepultura.
L'inizio è affidato alla devastante "Caught In The Mosh" e seguita a ruota da "Got The Time"; la band è senz'altro in forma e non perde occasione di ricordare al pubblico le sue origini italiane. La scaletta è impregnata di classici che mandano in estasi i fan, da "Madhouse" ad "Antisocial" ed ancora da "Only" alla storica "Metal Thrashin' Mad", tratta dalla bomba sonora "Fistful Of Metal", album d'esordio della band. L'esibizione degli Anthrax è stata oggetto, inoltre, di una preziosissima chicca, ovvero l'entrata in scena dell'incolmabile Scott "Not" Ian, che con le parole "I fuckin' love this country Milano!", si unisce alla band per la sola data Europea con i Big 4 del tour, poiché "esonerato" per stare con la famiglia e con il nuovo figliolo. Con lo stupore dell'audience, e se vogliamo, con anche un po' di commozione per il gesto, la band si appresta a lasciare il palco, dopo l'esecuzione di "Medusa" e della fantastica "I Am The Law", preceduta da un piccolo stacco solista di Kisser in cui sono stati eseguiti dei riff estratti da "Refuse, Resist" dei Sepultura, dopo aver ringraziato tutti per avergli dato la possibilità di rendere omaggio alla sua musica apprezzatissima da tutti. Ottima performance che mette tutti d'accordo sul ritorno in scena di un'icona storica del thrash che non fa prendere in considerazione i cali vocali di Belladonna negli acuti più ostili, con la speranza che il nuovo album ripercorra il vecchio sound e con la speranza di vederli nuovamente nel nostro paese con una setlist completa. Voto 10 per l'umiltà che hanno dimostrato con i fan.

SETLIST

1. Caught In A Mosh
2. Got the Time
3. Madhouse
4. Antisocial
5. Indians (+ Scott Ian)
6. Fight 'em Till You Can't
7. Metal Thrashing Mad
8. Medusa
9. Only
10. Refuse/Resist (Sepultura snippet) – I Am The Law

Attesa mezz'ora per il cambio palco, si intravede sullo stage la bionda chioma di Dave Mustaine che sulle note di "Trust" fa spazio alla sua band nel bill della giornata. Come sempre, Megadave non parla molto e la scaletta scorre in maniera piuttosto filata, dimostrandosi inizialmente sottotono per gli standard dei Megadeth. "Wake Up Dead", "Hangar 18" ed "Headcrusher" scorrono in fretta e senza sprigionare un'eccessiva fonte di energia, sorprendendomi poiché solitamente la band è molto potente; sul finale l'atmosfera si risolleva un poco, con l'esecuzione di un nuovo brano chiamato "Public Enemy n°1", veloce e potente. Lo show si conclude poi sulle note della leggendaria "Holy Wars (The Punishment Due)", preceduta dalle bellissime "She-Wolf" e "Peace Sells". Performance non proprio entusiasmante, dettata anche da una setlist non proprio eccezionale che lascia un po' di amaro in bocca.

SETLIST

1. Trust
2. In My Darkest Hour
3. Wake Up Dead
4. Hangar 18
5. Head Crusher
6. Poison Was The Cure
7. 1,320'
8. Sweating Bullets
9. Public Enemy n°1
10. A Tout Le Monde
11. Simphony Of Destruction
12. She-Wolf
13. Peace Sells…But Who's Buying?
14. Holy Wars (The Punishment Due)

Passati altri trenta minuti, con l'enorme aquila sullo sfondo, ecco arrivare gli Slayer con la nuova "World Painted Blood". Araya è in forma perfetta ed il sostituto di Jeff Hanneman, Gary Holt (Exodus), non fa rimpiangere tecnicamente l'assente; Lombardo dimostra ancora una volta la sua potenza sovraumana. La setlist scorre veloce e, come nello stile della band, senza pause e facendo sfoggio di brani massacranti e chicche come "Postmortem" ad inizio scaletta o la insuperabile "Black Magic" a fine perfomance. Gli estratti dall'ultima fatica discografica ("Hate Worldwide" e "Snuff" oltre all'opener) si integrano alla perfezione con i vecchi classici come la ricercata "Season In The Abyss", "Chemical Warfare" o la distruttiva "Disciple". Band al pieno delle energie che effettua un reale massacro sonoro per poco più di un'ora, mandando i presenti in visibilio per la fenomenale setlist, ma soprattutto per la miracolosa forma fisica dei musicisti; faccio notare infatti che Tom Araya ha addirittura eseguito gli acuti di "War Ensemble" ed "Angel Of Death" ottimamente per l'età ormai non proprio verde. La macchina da guerra Slayer lascia lo stage sulle note della classica "Angel Of Death" dopo un'ora e venti veloce, potente e perfetta. Queste quattro bombe ad orologeria hanno perfettamente incarnato il significato del thrash metal e lo hanno scagliato a due mani sulla folla con questa esibizione che resterà probabilmente storica nella sua perfezione e che mi ha lasciato con questo quesito in mente: "Quale miracolo dovranno fare i Metallica per tirare fuori di meglio?".

SETLIST

1. World Painted Blood
2. War Ensemble
3. Postmortem
4. Stain Of Mind
5. Disciple
6. Dead Skin Mask
7. Hate Worldwide
8. Mandatory Suicide
9. Chemical Warfare
10. Seasons in the Abyss
11. Snuff
12. South of Heaven
13. Raining Blood
14. Black Magic
15. Angel Of Death

Ancora sconvolto dalla devastante esibizione degli Slayer, sento l'ormai storico intro dei Four Horsemen, tratto dal film "Il buono,il brutto e il cattivo". L'apertura è violenta ed inimmaginabile con una doppietta killer: "Hit The Lights" e "Master Of Puppets"! La band è al pieno come al solito, e come spesso accade si può notare qualche "svista" da parte del danese dietro le pelli, anche se non influisce sulla setlist che entrerà senza dubbio a far parte della storia. Non mancano, chiaramente, delle chicche come "Fade To Black", "Blackened" o quel sensazionale capolavoro che risponde al nome di "The Call Of Ktulu", brano finale di Ride The Lighting. Hetfield, visibilmente molto attivo, parla spesso con la folla e ringrazia la "Metallica Family", come ci chiama lui, sfornando un classico dietro l'altro, da "One" con i celebri fuochi d'artificio alla favolosa "Through The Never" del pruripremiato Black Album. Come encore abbiamo un'altra sopresa in questa giornata fantastica, ovvero la jam con Megadeth ed Anthrax, che per la prima volta nel tour comprende anche gli Slayer per l'esecuzione della cover dei Misfits "Die, Die My Darling"! Siamo in chiusura, ma la band non si stanca di pigiare l'acceleratore ed allora, dopo che James ha avuto la conferma del pubblico di dover eseguire qualcosa di veloce, vengono sparate fuori dai monitor le note taglienti di "Damage Inc." subito seguita a "Creeping Death" per il gran finale. Con questa performance smagliante tornano i vecchi Metallica a riproporre il loro lato più thrash (da notare la mancanza della sempre presente "Nothing Else Matters") in forma perfetta e con una setlist altrettanto unica che riesce a raggiungere pienamente gli Slayer, regalando momenti unici a tutti. Posso perciò scrivere sul calendario che oggi, 6 Luglio 2011, grazie a questi quattro gruppi il messaggio è molto più chiaro: il thrash metal è più vivo che mai!

SETLIST

1. Hit The Lights
2. Master Of Puppets
3. The Shortest Straw
4. Seek & Destroy
5. Welcome Home (Sanitarium)
6. Ride The Lightning
7. Through The Never
8. All Nightmare Long
9. Sad But True
10. The Call Of Ktulu
11. One
12. For Whom The Bell Tolls
13. Blackened
14. Fade To Black
15. Enter Sandman
16. Die, Die My Darling (w/ Slayer, Megadeth and Anthrax)
17. Damage Inc.
18. Creeping Death
Immagini della Serata
Recensione di
Theclairvoyant
Articolo letto
2255
volte.
Articoli Correlati