Megadeth «Super Collider» (2013)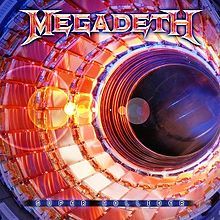 Autore:
Barbaro

»
Recensione Pubblicata il:
03.02.2014
Visualizzazioni:
1424
Band:
Megadeth




Titolo:
Super Collider
Nazione:
U.s.a.
Formazione:
Dave Mustaine - Lead Vocals, Lead, Rhythm, and Acoustic Guitars
Chris Broderick - Lead, and Rhythm Guitars
David Ellefson - Bass Guitar
Shawn Drover -Drums
Genere:
Thrash /Speed Metal
Durata:
45' 14"
Formato:
CD
Recensione
Sono sempre stato convinto che se Mustaine avesse avuto, nella sua storia, un approccio piu' carismatico coi sui fan anche il giudizio degli stessi su suoi dischi sarebbe diverso. Leggo in giro forti critiche di ogni tipo verso quest'ultimo lavoro in studio Super Collider, lo vado ad ascoltare, senza pregiudizi e, nonostante le premesse, ci vedo un buon album. Certo non ha i livelli compositivi e tecnici delle grandi glorie del passato ma vorrei chiedere di rapportare questo disco con quanto sta uscendo in questo periodo e ricalcolarne i parametri di valutazione. Super Collider mi piace, gia' dalla copertina che, se non rientra tra le massime espressioni grafiche recenti, di sicuro e' originale e attuale. La produzione e' ottima, il disco suona veramente bene e soddisfa anche chi non ha un impianto con un amplificatore valvolare in casa e anche gli arrangiamenti sono interessanti, alcuni piu' altri meno per la verita', ma questo credo sia un indiscutibile verita' su ogni disco che la musica ci ha portato. Gia' la opener 'Kingmaker' ha buone premesse, e' potente serrata e con una degna sezione ritmica. Super Collider, la title track, e' forse l'unica nota discutibile del disco, insieme a Burn, ma dopo si incontrano pezzi davvero interessanti: 'Built for War' granitico e acido, la quasi mistica 'Dance in the Rain', 'Beginning of Sorrow, con il suo intro di basso, e l'originale pezzo country 'The Blackest Crow', l'immediata 'Forget to Remember' e la blueseggiante 'Dont' Turn Your Back' per concludere con la cover dei Thin Lizzy 'Cold Sweat'. Insomma, in definitiva Super Collider e' un album che scorre bene, non tutti i pezzi sono eccelsi e di sicuro non passera' alla storia ma di sicuro incuriosisce e diverte molto piu' di tanta fuffa che gira oggigiorno.
Track by Track
Kingmaker

75

Super Collider

65

Burn!

60

Built for War

70

Off the Edge

75

Dance in the Rain

75

Beginning of Sorrow

60

The Blackest Crow

75

Forget to Remember

70

Don't Turn Your Back..

75

Cold Sweat

70
Giudizio Confezione
Qualità Audio:

85

Qualità Artwork:

75

Originalità:

75

Tecnica:

85
Recensione di
Barbaro

»
pubblicata il 03.02.2014. Articolo letto
1424
volte.
Articoli Correlati
Interviste
Spiacenti!

Non sono disponibili Interviste correlate.
Live Reports
Spiacenti!

Non sono disponibili Live Reports correlati.
Concerti
Spiacenti!

Non sono disponibili concerti correlati.