Megadeth + Diamond Head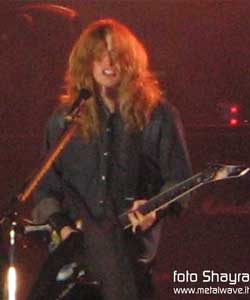 Data dell'Evento:
21.02.2005
Band:
Megadeth




Diamond Head
Luogo dell'Evento:
Alcatraz
Città:
Milano
Promoter:
Live in Italy

Autore:
Shayra

»
Visualizzazioni:
2092
Live Report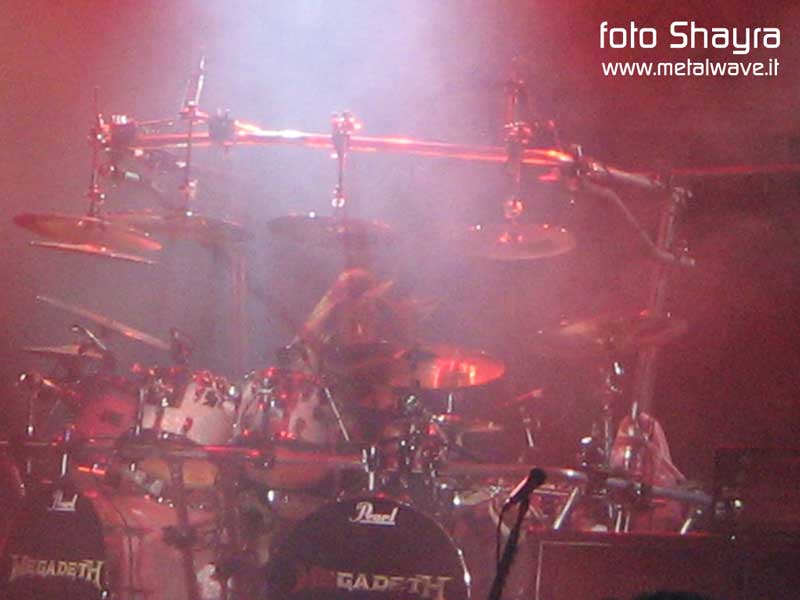 Attendevo questo concerto da molto tempo, l'ultima volta che vidi i Megadeth fu al Gods of Metal del 2001…e ora, dopo una lunga attesa, eccoli tornare, anzi "eccolo" tornare in Italia!!!!
21 Febbraio 2005, Alcatraz Milano…il locale è già strapieno.. alle 20.30 circa, salgono sul palco i gli storici Diamond Head, band inglese, attiva da più di vent'anni!!
Nonostante il repertorio proposto non sia dei più originali, i britannici riescono comunque a scaldare e a mantenere l'attenzione del pubblico…un pubblico decisamente impaziente!
Non passano neanche venti minuti…che " Blackmail The Universe " invade tutto il locale….i Megadeth salgono sul palco, ed il pubblico va in delirio completo!
Se devo essere sincera l'impatto sonoro non è dei migliori…le chitarre sembrano molto alte e impastate e la voce di Dave poco presente…ma piano piano durante il corso della serata la situazione tenderà a migliorare!
Con " Skin O' My Teeth " abbiamo la conferma che Dave è tornato più grintoso che mai…affiancato da una formazione altrettanto grintosa e di tutto rispetto: Shawn Driver alla batteria, James MacDonough al basso (Iced Earth) e Glen Driver alla chitarra!
I Megadeth propongono una scaletta a dir poco incredibile…la nuovissima "Scorpion", seguita a ruota da " Wake up Dead ", " In My Darkest Hour ", "She Wolf", " Something I'not ", " Angry Again ", fino ad arrivare alla bellissima e commovente " A Tout Le monde "!
Altro momento decisamente commovente…avviene quando Dave dedica "Of Mice and Men" al nostro caro amico Dimebag Darrel…
Un attimo di commozione e poi si ritorna a pogare sulle note dell'attesissima "Hangar 18" seguita da "Return To The Hangar"…un'accoppiata vincente…il pubblico è in estasi!!!
Un 'attimo di "relax" regalatoci da " Back In The Day "(tratta dall'ultimo album) e poi è ancora la volta di due grandi classici come " Symphony Of Destruction" e "Tornado Of Souls"!!!!!

Dopo una breve pausa…Dave ci presenta la formazione…e interagisce con il pubblico, domandando chi fra i presenti fosse musicista…e dicendo che nonostante qualche anno prima gli fosse stato proibito di suonare, lui ora era ancora li, con la sua amata chitarra…e con la bellissima "Holy Wars"…alla quale verrà poi collegata "Kick The Chair" tratta dall'ultimo album!

Con stupore…i Megadeth, dopo la loro uscita, tornano sul palco regalandoci un mix fra " Mechanix" e "Paranoid"!
Che dire il concerto si chiude, penso, nel migliore dei modi…è stato un live pauroso, forse uno dei più soddisfacenti di tutto l'anno, un live che nessuno dei presenti dimenticherà facilmente!
Immagini della Serata
Recensione di
Shayra
Articolo letto
2092
volte.
Articoli Correlati