Lunarsea «Hydrodynamic Wave» (2006)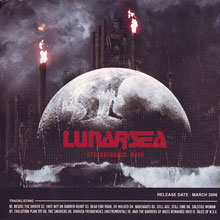 Autore:
Heresy

»
Recensione Pubblicata il:
--
Visualizzazioni:
2085
Band:
Lunarsea






Titolo:
Hydrodynamic Wave
Nazione:
Italia
Formazione:
Angelo - voce
Fabiano - chitarre e synth
Emiliano - chitarre
Cristian - basso
Claudio - batteria
Genere:
Durata:
47' 0"
Formato:
Data di Uscita:
2006
Etichetta:
Distribuzione:
---
Agenzia di Promozione:
---
Recensione
Uscito sul mercato ormai da alcuni mesi (marzo 2006), "Hydrodynamic wave" è l'album di debutto per i romani Lunarsea, sotto contratto con la greca Burning Star. Questa formazione ha circa tre anni di vita, essendo nata nel 2003 dalle ceneri degli Hollowearth che, stando a quanto dice la bio, facevano power-prog. Il genere proposto oggi dai Lunarsea è invece un death metal melodico come andava tanto di moda fino a un po' di anni fa, con influenze principali nella scena scandinava ed essenzialmente riconducibile ai nomi di Children of Bodom, In Flames vecchia maniera, Soilwork e forse qualcosa dei Dark Tranquillity. Ma qualcosa di power rimane nelle soluzioni più melodiche, nei cori e nelle parti di voce pulita di cui è pieno il disco, come si sente già dalla prima "Beside the driver". La cosa azzeccata del disco è probabilmente proprio l'accostamento di passaggi più catchy e ritornelli che si ricordano da subito con parti più tipicamente death metal (ma sempre melodic-death). Buona anche la tecnica individuale dei singoli e in particolare il lavoro alle chitarre di Fabiano ed Emiliano, tra l'altro devo dire che la registrazione - fatta non so dove - rende giustizia ai pezzi con un suono compatto e potente. La grossa pecca è secondo me il fatto che i pezzi vengono a rassomigliarsi un po' tutti e gli stessi passaggi e arrangiamenti si ripetono sempre, cosa che alla fine fa venire il disco a noia, oltre al fatto che il lavoro stesso va a inserirsi in una nicchia, quella melodic-death, davvero inflazionata (anche se meno di qualche anno fa, ora sta messo peggio il metalcore...) e questo potrebbe rendere difficile emergere tra i tanti nomi in circolazione.
Quindi per il momento sufficienza abbondante per i Lunarsea, considerando anche che si tratta solo del primo full-length, vedremo se in futuro i cinque riusciranno a trovare una loro proposta più personale e più variegata!
Track by Track
Beside the driver

70

Hate net on barren heart

65

Dead end road, he walked

65

Qubenauts

70

Still age, still time

70

Solstice woman

65

Evolution plan.txt

65

The smokers

70

Onirica frequencies

65

And the gardens of jades remained void

65

Tales of N.D.E.

65
Giudizio Confezione
Qualità Audio:

70

Qualità Artwork:

70

Originalità:

45

Tecnica:

70
Recensione di
Heresy

»
pubblicata il --. Articolo letto
2085
volte.
Articoli Correlati