Onslaught «VI» (2013)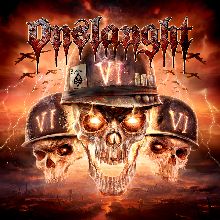 Autore:
Led

»
Recensione Pubblicata il:
25.09.2013
Visualizzazioni:
1864
Band:
Onslaught






Titolo:
VI
Nazione:
U.k.
Formazione:
Sy Keeler - Vocals
Nige Rockett - Guitar
Andy Rosser-Davies - Guitar
Jeff Williams - Bass
Mic Mourihan - Drums
Genere:
Thrash Metal
Durata:
39' 29"
Formato:
CD
Recensione
Potente, crudo, vietato ai deboli di cuore, questo è il sunto di "VI" la nuova fatica degli "Onslaught", band originaria di Bristol (UK). Un trash metal che ricorda in pieno i primi Slayer ai tempi di "Hell Awaits", grazie anche alla straordinaria tecnica della sezione ritmica che non dà un'attimo di tregua. Il ritmo è incalzante già dall'inizo con la bella e potente "Chaos is King" preceduta da una intro di trentasei secondi. Si prosegue spediti verso la parte centrale di "VI" con "Slaughterize", un bel concentrato di tecnica e, a mio avviso resistenza fisica, molto ben fatte le parti vocali sia dal cantato principale che dai cori, anche le chitarre con i loro muri e parti di assolo danno un ottimo contributo a questo lavoro molto ben riuscito. Particolarità di questo lavoro è l'uso come intro a quasi tutti i brani di campionamenti, non troppo lunghi per non sviare il genere Trash molto bella l'intro arabeggiante in "Children Of The Sand", il carillon in "66'Fucking'6".Fortunatamente non c'è traccia di brani lenti o presunti tali, come s'inizia, si finisce, anzi ho l'impressione che s'inizi veloce e si termini spediti con "Enemy of my Enemy".
Bello davvero questo cd che consiglio a tutti gli amanti del Thrash Metal.
Track by Track
A New World Order

50

Chaos Is King

70

Fuel For My Fire

70

Children Of The Sand

75

Slaughterize

75

66'Fucking'6

75

Cruci-Fiction

70

Dead Man Walking

70

Enemy Of My Enemy

70
Giudizio Confezione
Qualità Audio:

70

Qualità Artwork:

70

Originalità:

65

Tecnica:

75
Recensione di
Led

»
pubblicata il 25.09.2013. Articolo letto
1864
volte.
Articoli Correlati