Onslaught «Killing peace» (2007)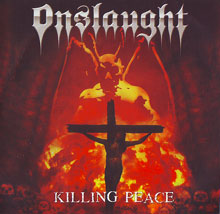 Autore:
FallenAngel

»
Recensione Pubblicata il:
--
Visualizzazioni:
1872
Band:
Onslaught






Titolo:
Killing peace
Nazione:
Inghilterra
Formazione:
Sy Keeler :: voce
Nige Rockett :: chitarra
Steve Grice :: batteria
Jeff Wiliams :: basso
Al Jordan :: chitarra
Genere:
Durata:
44' 11"
Formato:
Data di Uscita:
2007
Etichetta:
Distribuzione:
---
Agenzia di Promozione:
---
Recensione
Dopo ben 18 anni dallo split della band dovuti al flop di "In search of sanity", i thrash Onslaught, capitanati da Sy Keeler, ritornano alla ribalta con questo "Killing peace".
La band britannica ritorna nel migliori dei modi con un platter veramente notevole sotto tutti gli aspetti. "Burn" e "Killing peace" ci uccidono i padiglioni auricolari grazie al loro thrash metal in tipico "american style" senza compromessi di sorta; chitarre distorte all'inverosimile accompagnano una sezione ritmica che riesce a riempire perfettamente l'aria con suoni che sprizzano energia da tutti i pori; sono evidenti i richiami a band come i Testament, pur mantenendo un sound in tipico Onslaught style.
Leggermente diverso il discorso che deve essere fatto per "Destroyer of worlds" che si avvicina maggiormente al power metal con alcuni frangenti squisitamente thrash-core di ottima fattura; la voce di Sy è perfetta rauca al punto giusto tanto da amalgamare il tutto con sapiente esperienza.
Con "Pain" and "Prayer for the dead" si ritorna al thrash propriamente detto: cavalcate di doppia cassa affiancano con maestria un vero e proprio muro sonoro creato dalle chitarre che non stentano a farci arrivare delle sonore mazzate ad ogni secondo del brano.
Il cd scivola così senza intoppi fino al suo termine senza nessun intoppo; l'unica cosa che viene da fare è rischiacciare il tasto play sul nostro lettore cd per far riprendere il tutto.
Gli Onslaught sono quindi tornati e lo hanno fatto nel migliore dei modi, con un lavoro che riesce a convincere sotto tutti gli aspetti già dopo un primo sommario ascolto. Consiglio vivamente a tutti questo platter, ma soprattutto ai nostalgici del thrash della vecchia scuola americana; sicuramente non rimarranno delusi!
Track by Track
Burn

90

Killing peace

88

Destroyer of worlds

85

Pain

87

Prayer of the dead

79

Tasted to destruction

80

Twisted Jesus

84

Planting seeds of hate

87

Shock'n'awe

82
Giudizio Confezione
Qualità Audio:

90

Qualità Artwork:

80

Originalità:

80

Tecnica:

91
Recensione di
FallenAngel

»
pubblicata il --. Articolo letto
1872
volte.
Articoli Correlati