Alltheniko «Extermination» (2004)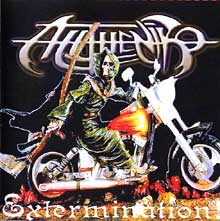 Autore:
Painkiller

»
Recensione Pubblicata il:
--
Visualizzazioni:
2344
Band:
Alltheniko






Titolo:
Extermination
Nazione:
Italia
Formazione:
Joe Boneshaker:: Rhitim And Lead Guitars
Luke The Idol:: Drums, Percussion And Vocals
Dave Nightfight:: Bass And Lead Vocals
Genere:
Durata:
28' 24"
Formato:
Data di Uscita:
2004
Etichetta:
Distribuzione:
---
Agenzia di Promozione:
---
Recensione
Ritorno al passato. Questa è la frase che corre in mente quando si ascolta "Extermination", il nuovo demo degli italianissimi Alltheniko che dopo la nascita nel 2002 hanno già pubblicato due demo e grazie ad un accordo con la label italiana Adrenaline/Steelheart Rec, sono prossimi alla realizzazione del loro debut album.
Parliamo di ritorno al passato perché è evidente il legame tra il sound proposto dalla band e un certo metal targato anni 80, non è un caso che nel suddetto lavoro confluiscano in maniera chiara e netta le sonorità tipiche del NWOBHM, in primis Iron Maiden e Judas Priest e alcuni frammenti thrash in cui vengono alla mente gli Annihilator, il tutto condito con un attitudine simile ai Motorhead.
Ma, attenzione, non vorrei essere frainteso, questo non vuol dire automaticamente un giudizio negativo, anzi le sei tracce del disco vengono proposte con abilità dal trio italiano, il lavoro è ben fatto, potendo contare su un solidissimo riffing e su una precisa e potente sezione ritmica che ha nel batterista il suo punto di forza. Il capitolo voce invece merita una trattazione a parte, se da un lato infatti il singer (che si occupa anche del basso ndr) mostra una invidiabile versatilità nel passare da timbri puliti, allo screaming, tentando anche più volte qualche growl, dall'altro questo può generare confusione, per questo si ritiene che forse una maggiore uniformità delle vocals potrebbe fornire una migliore impressione.
Il disco, come gia accennato, è composto da 6 canzoni più una ghost track molto ironica che chiude il disco e che fornisce una sorta di presentazione del gruppo. Per il resto le canzoni non fanno mai gridare al miracolo, ma danno comunque una positiva impressione dei mezzi tecnici del gruppo, sopratutto se il tutto viene visto in prospettiva futura. Nello specifico si passa dalla maideniana "Thrash All Around" (viene alla mente "Be Quick or Be Dead"), alla più riflessiva "Criminal Mind" sostenuta comunque da un ottimo riffing, ma non mancano episodi più pesanti come "Coming Soon" e "Dead Brain", canzone in cui sono maggiori i riferimenti al thrash e che colpisce per un ritornello di forte impatto. E non è finita qui: come non rimanere folgorati dagli assoli presenti nella stupenda "Silent Priest" e dal riffing coinvolgente e vivace della successiva "We Will Fight", una delle tracce di maggiore impatto di "Extermination".
Insomma, facendo due conti, possiamo dire che il talento non manca a questi ragazzi, quello che gli serve però è una maggiore maturità artistica e una migliore gestione del processo di songwriting, in modo da evitare il fossilizzarsi su un sound valido ma a cui occorre una maggiore freschezza. Non ci resta che attendere il loro debut album, ma sono già sicuro che i frutti arriveranno. Buona fortuna ragazzi.
Track by Track
Thrash All Around

70

Criminal Mind

65

Cooming Soon

65

Dead Brain

75

Silent Priest

75

We Will Fight

65

Bonus Track

65
Giudizio Confezione
Qualità Audio:

70

Qualità Artwork:

65

Originalità:

60

Tecnica:

70
Recensione di
Painkiller

»
pubblicata il --. Articolo letto
2344
volte.
Articoli Correlati