Alltheniko «Fast And Glorious» (2014)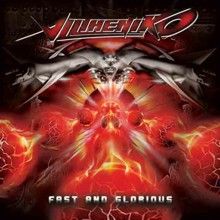 Autore:
Snarl

»
Recensione Pubblicata il:
01.01.2015
Visualizzazioni:
1836
Band:
Alltheniko






Titolo:
Fast And Glorious
Nazione:
Italia
Formazione:
Dave Nightfight :: Bass, Vocals
Luke the Idol :: Drums, Vocals
Joe Boneshaker :: Guitars
Genere:
Heavy Metal
Durata:
45' 49"
Formato:
CD
Recensione
E dopo gli Alkoholizer, un'altra band ritorna a spaccare tutto nel thrash metal: gli Alltheniko, ovvero un'altra delle mie bands preferite in Italia per quel che riguarda il thrash, che con quest'album arriva al quinto album di 9 tracce per quasi 46 minuti di musica edita dalla Pure Steel Records, un nome una garanzia!
"Fast and glorious" è un album thrash con diverse puntate nello speed e nel power, che non può non lasciare il segno per via di un tiro della band invidiabile delle canzoni, che vanno dalla potentissima opener "Tank of death" che punta tutto sull'impatto, alla potente title track", fino alla violenta "Kaisersteel", thrash all'ennesima potenza ma anche caratterizzata da un ritornello più power. Non è tanto l'innovazione il punto di forza della band, quanto piuttosto il fatto che per tutto l'album o quasi la botta in faccia è forte, e fatichi a credere che gli Alltheniko sono solo tre, nonché il fatto che "Fast and glorious" suona potentissimo e furioso ma al contempo anche molto maestoso e solenne, con un lavoro dietro gli strumenti molto all'altezza e uno riguardante la qualità sonora non meno riuscita, dove la qualità sonora è per fortuna molto ben fatta ma per niente sopra le righe e anzi capace di dare ai riffs di chitarra il loro giusto spazio, sempre variegati e ben assortiti, e senza andare a scapito della voce, che qui davvero è sensazionale, capace di risaltare in brani più heavy classico come "Power to rebel" e soprattutto in brani come la più Speed Metal oriented "The Arenas god", che è anche quello conclusivo dell'album, visto che la canzone finale "Power And The Glory I.U.W.S." è una cover dei Saxon in realtà.
Che dire: tra questi e gli Alkoholizer avete solo l'imbarazzo della scelta, nonché l'obbligo di comprare entrambi questi dischi se qualsiasi cosa che abbia a che fare con thrash, speed, power e heavy metal è il genere vostro. Una vera bomba!
Track by Track
Tank Of Death

80

Fast And Glorious

85

KaiserSteel

85

Holy War, Holy Fighters

85

Scream For Exciter

85

Spirit Of War

80

Power To Rebel

85

The Arenas God

85

Power And The Glory I.U.W.S. (Saxon Cover)

S.V.
Giudizio Confezione
Qualità Audio:

85

Qualità Artwork:

75

Originalità:

85

Tecnica:

85
Recensione di
Snarl

»
pubblicata il 01.01.2015. Articolo letto
1836
volte.
Articoli Correlati
Interviste
Live Reports
Spiacenti!

Non sono disponibili Live Reports correlati.
Concerti
Spiacenti!

Non sono disponibili concerti correlati.