Alltheniko «Back in 2066 (Three Head Mutant Chronicles)» (2012)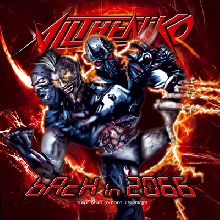 Autore:
Elbereth

»
Recensione Pubblicata il:
03.03.2013
Visualizzazioni:
2030
Band:
Alltheniko






Titolo:
Back in 2066 (Three Head Mutant Chronicles)
Nazione:
Italia
Formazione:
Dave Nigtfight - Bass & Vocals
Joe Boneshaker - Guitars
Luke The Idol - Drums
Genere:
Heavy/Speed Metal
Durata:
49' 24"
Formato:
CD
Recensione
A dieci anni dalla fondazione della band, i piemontesi Alltheniko sfornano "Back in 2066", un full lenght che rispecchia la maturità raggiunta dai tre musicisti della scuderia tedesca Pure Steel.

Le undici tracce thrash/speed/power offerte hanno evidenti reminiscenza eighties in stile Annihilator, Judas Priest e Anthrax ma è chiara anche la ricerca di un'impronta propria, evitando ogni orpello digitale e riuscendo a creare "armoniosi brani macinatimpani".
L'album inizia con un'intro strumentale pacata, un minuto e mezzo che non ha niente a che vedere con i ritmi sostenuti e i riff irruenti che pervaderanno i pezzi successivi, a partire dall'incalzante "Ticket for the Fireball", a cui segue "Will the Knight", probabilmente il pezzo più ispirato dell'album: melodia vocale di facile assimilazione (per cui vincente), chitarre un po' più morbide e refrain fortunato.

Il crescendo prosegue con la più classica "Dance of Mutant Knight" e il tocco speed di "Horizon", tutto corredato da indomite chitarre, solidi acuti vocali, cori power ed efficaci ritmiche martellanti; a metà album troviamo una piccola perla,"Struggle till the Sunset", fresca e valida prova di songwriting che lascia un po' più spazio alle tastiere. Da questo momento in poi il tono dell'album si fa decisamente più thrash: in "Riders to Rouen", "Bastard Rabbles", "2066" e "Back From The Other Side" si scatena la potenza del trio, attenuata solo in "New World's Hero", dal sound meno aggressivo ma altrettanto interessante.

Un album attento alle linee melodiche, senza fronzoli, dai refrain complessivamente efficaci, impreziosito dalla voce versatile di Dave Nigtfight, dalla potenza dei riff e dalla bravura di Joe Boneshaker e dall'impetuosa batteria di Luke The Idol: consigliato agli amanti dell'heavy metal old school made in Italy.

Track by Track
Land of Salvation

75

Ticket for the Fireball

75

Will the Night

85

Dance of mutant knight

75

Horizon

75

Struggle till the Sunset

85

Riders to Rouen

75

New world's Hero

85

Bastard Rabbles

80

2066

75

Back from the other side

80
Giudizio Confezione
Qualità Audio:

75

Qualità Artwork:

60

Originalità:

70

Tecnica:

85
Recensione di
Elbereth

»
pubblicata il 03.03.2013. Articolo letto
2030
volte.
Articoli Correlati
Interviste
Live Reports
Spiacenti!

Non sono disponibili Live Reports correlati.
Concerti
Spiacenti!

Non sono disponibili concerti correlati.