Cromo «Unchained» (2012)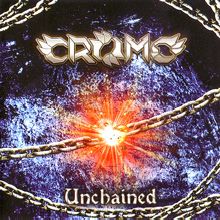 Autore:
Vincent

»
Recensione Pubblicata il:
--
Visualizzazioni:
2615
Band:
Cromo




Titolo:
Unchained
Nazione:
Italia
Formazione:
Clod: lead guitars, backing vocals
King Delfo: drums and percussions, vocals
Blade: lead vocals, keyboards, guitars
Edge: bass guitar, backing vocals
Genere:
Durata:
25' 38"
Formato:
EP
Data di Uscita:
2012
Etichetta:
Distribuzione:
---
Agenzia di Promozione:
---
Recensione
Non sono riuscito a trovare alcuna biografia del gruppo, per cui non posso darvi con esattezza notizie anagrafiche dei Cromo, ma dal loro sito internet si può vedere come abbiano già pubblicato un primo demo contenente 3 brani nel 2010 (sold out). Nel 2012 tornano alla carica e registrano questo lavoro presso gli A.D.S.R. Studio di Milano, sotto la guida di Carlo Meroni, ed il 6 aprile esce "Unchained". Usando parole loro: "Si tratta di un EP di 6 tracce di puro hard 'n' heavy con un sound d'altri tempi, dove troveranno spazio gli accattivanti riff e melodie della chitarra di Clod e la potente voce di Blade, frontman della band". Come descrizione devo dire che è veramente azzeccata, non sarei riuscito a fornirne una migliore. In effetti già dalla prima traccia sembra proprio un EP degli anni '80, tipico dei gruppi heavy dell'epoca. Se avessi capelli lunghi un po' cotonati, una maglia dei Motley Crue, pantaloni di pelle attilati con borchie collane, ed una stanza con appesi poster di Iron Maiden, Saxon, Twisted Sister, Europe,… i Cromo non stonerebbero di certo. Avere tra le proprie file la voce di Blade è l'ideale per questo genere, decisa e potente, ma sentendolo non si può certo dire che gli altri componenti del gruppo siano da meno. L'inizio con "Hitchhiking" è azzeccato e l'assolo è eseguito magistralmente da Clod, unico chitarrista del gruppo. Sinceramente "Heavy Metal Lover" perde un po' di intensità ed è una canzone troppo scontata per il genere in questione, ma l'inizio con l'urlo è molto accattivante. "Storm Warning" me l'aspettavo più lunga, nel senso: ascoltandola si ha l'impressione che la cosa debba evolversi in qualcosa di più, invece è solo un intermezzo di 45" che ti porta poi a "Tide of Flood", altra traccia a mio avviso troppo uguale a molte altre e già sentita, eccetto per l'assolo di tastiera verso la fine della canzone che rende molto bene e fa apprezzare a pieno la bravura della band. Con "Shine my Star" tornano alla carica e qui amo particolarmente la chitarra di Clod in tutta la sua performance, anche se tutte le sue potenzialità e la voglia di virtuosismi si sentono negli ultimi 2 minuti di "Wasted Time" dove, arricchiti nel finale da una pioggia battente, la band colora l'ultima parte del disco solo in maniera strumentale. Non c'è che dire, questi quattro ragazzi ci sanno fare eccome ed hanno un'ottima padronanza degli strumenti che vengono arricchiti da una gran voce; solo la batteria è sacrificata: non si sente una forte e massiccia presenza, ma forse questa caratteristica è dovuta, e voluta, al genere che intendono portare on stage. Personalmente amo i gruppi che sperimentano cose nuove, che mi fanno capire che la musica deve andare avanti perché ce n'è ancora da fare, c'è bisogno di spingersi in qualcosa di nuovo, e qui purtroppo questo non lo avverto, ma ciò non toglie che se siete amanti dei gruppi che vi ho citato sopra e volete andare ad un concerto glam/hair metal in ricordo dei bei vecchi tempi, i Cromo fanno al caso vostro.
Track by Track
Hitchhiking

75

Heavy Metal Lover

70

Storm Warning

70

Tide of Flood

70

Shine my Star

75

Wasted Time

70
Giudizio Confezione
Qualità Audio:

80

Qualità Artwork:

65

Originalità:

70

Tecnica:

85
Recensione di
Vincent

»
pubblicata il --. Articolo letto
2615
volte.
Articoli Correlati