5Rand «Fuck Simile» (2012)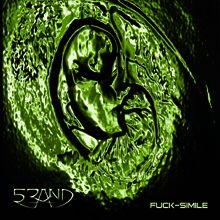 Autore:
Vincent

»
Recensione Pubblicata il:
--
Visualizzazioni:
2259
Band:
5Rand





Titolo:
Fuck Simile
Nazione:
Italia
Formazione:
Pierluigi Carocci: Chitarre, Synth, Samples
Davide Procaccini: Voce, Basso, Synth, Samples
Andrea Rondoni: Batteria
Genere:
Durata:
15' 48"
Formato:
EP
Data di Uscita:
2012
Etichetta:
Distribuzione:
---
Agenzia di Promozione:
---
Recensione
I 5rand arrivano da Nettuno (RM) e si sono formati dal 2008 per volere di Pierluigi a cui si aggiungerà Davide, inizialmente solo come bassista, ma poi dopo l'ingresso anche di Andrea alla batteria opterà per dare voce ai testi del gruppo (non so per quale motivo non l'abbia fatto da subio…) principalmente basati su tematiche e problematiche sociali. Mi piace che il gruppo abbia deciso di mandare la breve biografia in italiano, non tanto per bypassare la mia pigrizia nel tradurlo, ma perché se il gruppo è italiano è giusto che lo faccia vedere anche in queste piccole cose. Loro sono solo tre, a detta di molti il numero perfetto, ed ovviamente è un vantaggio quando si tratta di organizzare le prove o gli impegni in vista di una esibizione live. L'EP "Fuck Simile" è stato registrato e missato nei 16th Cellar Studios di Stefano Morabito e masterizzato presso gli studi Finnvox da Mika Jussila. L'arrivo della sonda Curiosity su Marte l'associo immediatamente alla breve intro di "Paint Of Pain" che dà l'idea proprio di una trasmissione e sincronizzazione difficoltosa. Quello che riescono a tirare fuori questi ragazzi da subito è veramente impressionante: l'impatto è forte ed il loro sound ti prende subito. C'è una buona alternanza di growl e voce clean, per questo mi sono chiesto come mai Davide fosse titubante in un primo momento a cantare, con una batteria ed una chitarra molto pesanti e decise. Il seguito con "The True-Death Show" non perde certo potenza e la voce mi ricorda molto quella dei Lamb Of God con un ritornello sempre all'insegna del clean e finalmente arricchito in maniera maggiormente evidente dal synth: aspettavo molto il suo ingresso, non ne sono rimasto deluso ed anche nel proseguo della traccia la sua presenza è ottima. Mi piace come la band colorisca le varie sezioni della canzone con suoni, "parlato" e sfumature diverse, così come in "Fuck Simile": ogni traccia è caratterizzata da qualcosa che la rende diversa pur rimanendo all'interno del particolare sound. Qui il ritornello mi ricorda molto i Fear Factory di Demanufacture. La padronanza dello strumento è evidente e la band sa quello che fa, e lo fa bene. Gli assoli di chitarra sono azzeccati, virtuosi si ma al punto giusto senza eccedere in lunghezza. Arrivati a "Preacher Of Lies" non si può che confermare tutto quello detto fin'ora. Non c'è che dire, veramente un EP degno di nota. Aspetto con ansia un altro lavoro e se mai capitassero nelle Marche andrei certamente al loro live anche se gli auguro qualcosa di più, nella mia regione le prospettive di successo non sono molto elevate.
Track by Track
Paint Of Pain

85

The True-Death Show

80

Fuck Simile

85

Preacher Of Lies

80
Giudizio Confezione
Qualità Audio:

80

Qualità Artwork:

70

Originalità:

90

Tecnica:

85
Recensione di
Vincent

»
pubblicata il --. Articolo letto
2259
volte.
Articoli Correlati