Annulation «Human Creatures» (2004)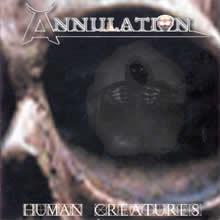 Autore:
Painkiller

»
Recensione Pubblicata il:
--
Visualizzazioni:
798
Band:
Annulation



Titolo:
Human Creatures
Nazione:
Svizzera
Formazione:
Domi Weber:: Vocals-Guitar-Berimbau
Simi Ruegger:: Drums-Backvocals
Tin Rotlisberger:: Guitar-Backvocals
Reto D'Amelio:: Bass
Genere:
Durata:
47' 45"
Formato:
Data di Uscita:
2004
Etichetta:
Distribuzione:
---
Agenzia di Promozione:
---
Recensione
E anche la Svizzera partorì il suo mostro. Questo mi sembra il modo migliore per aprire la mia nuova recensione. Come avrete capito stiamo parlando di un gruppo svizzero. Gli Annulation, ci propongono "Human Creatures", un disco che riporta alla mente il trash/death dei Sepultura dei fratelli Cavalera, contaminato, ma con molta prudenza, da inserti più vicini ai Soulfly. "Human Creatures" è un album, che è stato molto criticato, ma a mio avviso rappresenta un buon prodotto nel suo genere. Certo non è un capolavoro e non rimarrà impresso per tantissimo tempo, vuoi per la mancanza di originalità, che la band dimostra nella composizione e nell'esecuzione del disco, vuoi per alcune canzoni che sembrano assolutamente superflue per l'economia del cd. Tuttavia, "Human Creatures", è composto da 9 canzoni suonate in modo impeccabile dagli svizzeri, la band dimostra una grossa padronanza degli strumenti, la produzione è un po' sporca, ma assolutamente coerente con la proposta musicale degli Annulation e anche l'artwork è ben curato. Sin dall'opener "Siege of Fear", è evidente quale sarà la proposta musicale su cui si incentrerà il disco, come/detto prima trash/death, suonato con intelligenza e competenza, contorniato da un growling che colpisce nel segno per aggressività e cattiveria, un riffing selvaggio e pesante e un drumming che fa un uso ben ponderato della doppia cassa (senza mai esagerare, senza mai mancare di mordente), ma sa essere quando vuole anche preciso e ben curato. E così risaltano, tra la furia trash che accompagna il lavoro degli Annulation, gli ottimi inserti ritmici e riflessivi della title track, seguiti da un riffing micidiale; le iniziali parti tribali, della successiva "Soul Get Out", anche se forse un pò troppo vicine al sound dei Soulfly; la doommeggiante, ma secondo me non riuscita "Crow Song", non riesce mai a eguagliare le atmosfere tipiche del doom e nel contempo manca anche di quell'aggressività necessaria per divenire una buona trash metal song. E infine, "Radical Shit", una song che oltre al trademark sonoro già visitato dalla band, unisce per la prima volta nel disco, alcune parti più moderniste e melodiche, affiancando nel ritornello al growl del singer una seconda voce più pulita ed orecchiabile. Comunque per chi avesse ancora dubbi sulle capacità tecniche della band, basta ascoltarsi, l'ultima traccia di "Human Creatures", la cover live dell'indimenticabile "Roots" dei Sepultura, canzone in cui gli svizzeri trasmettono tutta la loro rabbia e dimostrano la validità dei propri mezzi. Purtroppo, deludono un pò i testi, che sembrano un po' infantili e scontati, ma per questo c'è tempo.
Insomma "Human Creatures" è un buon disco, ma non è la prova del nove per gli Annulation, solo un evoluzione del loro songwriting, infatti, potrà aprirgli la porta del successo, ciò non togli che il nuovo album della band svizzera sia un ottimo passaggio verso altri lidi.
Track by Track
Siege of Fear

75

Fuck All

75

Human Creatures

80

Soul Get Out

70

Confused

70

Crow Song

60

Murderer

65

Radical Shit

80

Roots (Live)

75
Giudizio Confezione
Qualità Audio:

75

Qualità Artwork:

75

Originalità:

55

Tecnica:

70
Recensione di
Painkiller

»
pubblicata il --. Articolo letto
798
volte.
Articoli Correlati