Kill The Klown «This Show Could be Your Execution» (2011)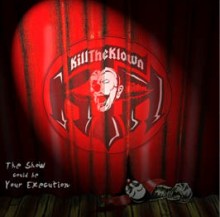 Autore:
Zoro

»
Recensione Pubblicata il:
--
Visualizzazioni:
1414
Band:
Kill The Klown




Titolo:
This Show Could be Your Execution
Nazione:
Italia
Formazione:
Vocals - Gillo
Guitar - Leo
Guitar - Beppe
Bass - Chicco
Drums - Luca
Genere:
Durata:
34' 0"
Formato:
CD
Data di Uscita:
2011
Etichetta:
Distribuzione:
---
Agenzia di Promozione:
---
Recensione
I veneti Kill the Klown sono dei ragazzi evidentemente venuti su a pane e Pantera, e assidui frequentatori di quei territori di confine tra thrash e hardcore punk, che noi feticisti della nomenclatura chiamiamo groove metal. Se, come dice la band stessa, i suoi numi tutelari sono i Pantera, il suono che viene fuori da quest'album ricorda moltissimo i Lamb of God, che vengono citati spesso e volentieri nei riff, nei groove di batteria e nella voce, che a tratti imita Randy Blythe in modo imbarazzante. La parola imitazione, in effetti, rischia di comparire molto spesso in questa recensione, data la natura totalmente derivativa dei Kill The Klown: dire che non hanno inventato il loro genere è un complimento, la proposta musicale dei nostri è davvero troppo simile a quella dei mostri sacri del genere, forse riesce appena a contraddistinguersi per una maggiore ricerca dell'orecchiabilità, che si evince in accelerazioni e assoli che guardano al thrash più canonico e ritornelli corali, di facile memorizzazione: tutto ciò è volto a snellire la pesantezza di cui band come Lamb of God e Pantera si sono fatte patrone, il che garantisce dei primi ascolti piacevoli e immediati, ma tende a banalizzare il prodotto con l'ascolto ripetuto.
Ma i Kill The Klown non sono dei cloni senz'anima, e sanno come scrivere canzoni trascinanti e godibili, suonate con competenza e coinvolgimento. Sono sicuro che questi ragazzi sono in grado di scatenare un bel putiferio in sede live!
Quindi, una band valida ma che dovrebbe ancora cercare un po' la propria personalità. Ma gli amanti del groove dovrebbero seriamente prenderli in considerazione, perché il fatto di essere molto simili a band già esistenti non significa che siano un ascolto spiacevole o una perdita di tempo. Anzi.

Track by Track
Go(ats) to the Show

70

Kill the Klown

70

Not By The Hand of God

75

Boozed

70

Hateful

75

Media Terrorizer

65

I Am Eternal

70

Track of Doom

65

Lost Hero

70

Bleeding Stone

65

Unbreakable

70
Giudizio Confezione
Qualità Audio:

75

Qualità Artwork:

60

Originalità:

50

Tecnica:

75
Recensione di
Zoro

»
pubblicata il --. Articolo letto
1414
volte.
Articoli Correlati