Black Inside «Servant Of The Servants» (2011)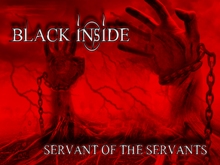 Autore:
Zoro

»
Recensione Pubblicata il:
--
Visualizzazioni:
1832
Band:
Black Inside



Titolo:
Servant Of The Servants
Nazione:
Italia
Formazione:
Luigi Martino - Lead Vocals
Alex Amoddio - Bass
Peppe Pandolfi - Rhythm Guitar
Brian Russo - Lead Guitar
Enzo Arato - Drums
Genere:
Durata:
36' 0"
Formato:
CD
Data di Uscita:
2011
Etichetta:
Distribuzione:
---
Agenzia di Promozione:
---
Recensione
È il momento per i Black Inside di scrollarsi di dosso lo status di cover band dei Black Sabbath, con una manciata di pezzi che pur non abbandonando le vibrazioni rallentate e cupe dei quattro padrini del metal di Birningham, le arricchiscono e appesantiscono con tutto il bagaglio musicale che può avere un gruppo che ha visto la nascita e il declinio del metal. Un emancipazione perfettamente riuscita? Più o meno.
Si parte con la title track, che apre le danze con un bel riffone cadenzato a la sabbath nero, ma si sviluppa come un pezzo più moderno nella struttura, ricercando il ritornello orecchiabile. Questo è in effetti il difetto principale della band: l'integrare un sound settantiano con soluzioni più moderne non lo rende più interessante, ma al contrario più convenzionale. Quanto appena esposto in effetti è riscontrabile in ogni canzone del lotto, che viene a risultare così di sicuro non inascoltabile, i musicisti sanno fare benissimo il loro mestiere, ma privo di incisività.
La mancanza di incisività è in effetti il difetto principale dell'album, che propone una canzone dopo l'altra senza che nessuna di esse riesca a colpire più di tanto, anche se un ascolto ripetuto porta a farlo apprezzare un po' di più. Non aiuta poi la performance del singer, che ha un approccio rock-oriented un po' troppo staccato dal contesto doom, che richiede istrionismo più che potenza e sguaiatezza (prendiamo le mosse in fondo dal gruppo che ha ospitato Ozzy e Dio).
In sostanza quindi, l'album arriva alla sufficienza, ma consiglio al gruppo di approfondire di più le proprie radici, e li rimando alla prossima prova in studio.
Track by Track
Servant of the Servants

65

Crossing the Desert

60

Another Me

55

Getsemani Suite

55

Tears of Rain

65

Zombies Train

60
Giudizio Confezione
Qualità Audio:

70

Qualità Artwork:

65

Originalità:

65

Tecnica:

70
Recensione di
Zoro

»
pubblicata il --. Articolo letto
1832
volte.
Articoli Correlati