IV Luna «The Last Day Of An Ordinary Life» (2011)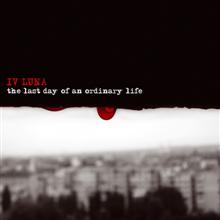 Autore:
carnival creation

»
Recensione Pubblicata il:
--
Visualizzazioni:
1570
Band:
IV Luna




Titolo:
The Last Day Of An Ordinary Life
Nazione:
Italia
Formazione:
Mik Chessa - vocals, guitars
Laiki Chessa - lead guitar
Andrea Bj Caminitti - bass
Alex Giuliani - drums
Guests:
Alice Pelle - vocals (tracks 02, 04, 05, 06, 10, 11), keyboards (tracks 02, 04, 08)
Giacomo Citro - bass (track 04)
Genere:
Durata:
50' 0"
Formato:
CD
Data di Uscita:
2011
Etichetta:
Distribuzione:
---
Agenzia di Promozione:
---
Recensione
"IV Luna", quarta luna. Già dal nome i nostri amici romani la sanno lunga e provvedono a presentarsi nel migliore dei modi con un artwork professionale e dal forte impatto; poi, per quanto riguarda la parte musicale, il discorso si fa più ampio e accresce notevolmente la qualità del prodotto in sé.
Progressive dark metal. Ecco come ci si sono presentati i nostri ed io non potrei essere più d'accordo in quanto, benché non vada particolarmente pazzo per le catalogazioni dei generi musicali, non troverei altro genere con cui definire l'intero operato dei "IV Luna" e più precisamente "The Last Day Of An Ordinary Life", titolo suggestivo che richiama mille pensieri, mille domande senza risposte e mille risposte senza domande. Loro ci consigliano di aprire una bottiglia di qualche liquore non meglio identificato e di accogliere il loro ultimo album, lasciandoci dolcemente trasportare dalle suggestioni e dalle emozioni create dalle note che vanno a comporre i brani.
Dal canto mio, pur non avendo potuto seguire il consiglio al 100% (da me fanno 35° all'ombra e al massimo potrei gustarmi una birra ghiacciata) ho effettivamente accettato di buon grado questo bel disco, ascoltandomelo anche più volte nel massimo relax di un pomeriggio estivo permettendo alle atmosfere così liquide di scorrere liberamente e di cullarmi in quei 50 minuti di durata. E' un'opera discretamente originale, registrata con la piena consapevolezza di possedere tutte le carte in regola per poter proporre qualcosa di valido e assolutamente fresco. Come sound ci siamo proprio e le splendide note tra il malinconico e l'acceso del cantante/chitarrista Mik Chessa non fanno altro che confermare i "IV Luna" come band che sta andando alla grande, anche coadiuvata da due talentuose figure le quali compaiono in non poche occasioni: sono Alice Pelle, cantante eccezionale oltre che brava tastierista. e Giacomo Citro, che ha registrato il basso nella brillante "I Realize", tra le tracce migliori del disco. Interessantissimo lo sperimentare anche usando affascinanti chitarre in pulito qua e là e devo ammettere che il tutto è stato mixato nel migliore dei modi, permettendo ad ogni singolo strumento di potersi valorizzare. Ogni brano è permeato di un'atmosfera quasi magica, provare per credere! Ottimo lavoro ragazzi!
Track by Track
63 Seconds To Black 0

70

September 28th, 2003

70

Unsafe Prison

65

I Realize

75

In The Shade

70

Last Days Of My Ordinary Life

65

La Tua Voce

70

Magic Room

70

Unsuitable

70

Disappeared

70

The Best Day

75

Goodnight Moon

70
Giudizio Confezione
Qualità Audio:

70

Qualità Artwork:

75

Originalità:

70

Tecnica:

70
Recensione di
carnival creation

»
pubblicata il --. Articolo letto
1570
volte.
Articoli Correlati