Screaming Banshee «The Chronicles» (2011)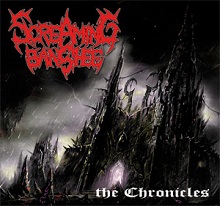 Autore:
carnival creation

»
Recensione Pubblicata il:
--
Visualizzazioni:
1559
Band:
Screaming Banshee






Titolo:
The Chronicles
Nazione:
Italia
Formazione:
Alessandro Iacobellis - vocals
Luca Ficorella - guitar
Simone Ornati - guitar
Massimiliano D.G. - bass
David Folchitto - drums
Genere:
Durata:
25' 41"
Formato:
EP
Data di Uscita:
2011
Etichetta:
Distribuzione:
---
Agenzia di Promozione:
---
Recensione
La band capitolina è molto giovane, infatti è nata verso la fine del 2009, ma solo nel 2010 riesce a completare la formazione e dare alla luce i cinque brani che "The Chronicles" contiene, registrati verso luglio dello scorso anno al Controfase Studio di Vittorio Marchetti. La band si divide dal chitarrista e la line-up subisce un altro cambiamento rimpiazzando il precedente musicista. In poco tempo quindi ci sono stati sconvolgimenti, ma la sostanza pienamente death metal dei nostri probabilmente è rimasta invariata, se non migliorata, e saranno future release a confermare o a confutare ciò che ho appena scritto.
"The Chronicles" è un Ep chiaro come la luce del sole e fa ben comprendere ciò che ha balenato nella mente degli Screaming Banshee al momento della stesura dei pezzi. E' un death metal con frequenti richiami dal mondo del progressive e del thrash, sono cinque tracce dai connotati anche piuttosto semplici, specie per i riff di chitarra e basso, per gli stop e soprattutto per i movimentati cambi di tempo con pattern ritmici che di originale non hanno molto ma che sono eseguiti con estrema affidabilità. Il sound è chiaramente debitore dei primi Death, specie in "One Day Of Swords" e "Guardians Of The Tower" anche se il mood vocale (quasi totalmente in growling) si discosta dal modo di cantare quasi gracchiante di Chuck Schuldiner e preferisce optare per lidi più thrash/death, e infatti l'impatto è maggiormente accentuato, anche per merito di un drumming che sostiene al meglio ogni ritmica.
Si evincono buone tecniche di chitarra e anche la melodia non è stata abbandonata trovando anch'essa un posto in cui risolversi. C'è da pulire un po' i suoni e da rendere più elegante la resa ma per il resto ci siamo.
Track by Track
My Scream

65

Guardians Of The Tower

65

The Cursed

70

The Wisdom Of Mithrandir

60

One Day Of Swords

70
Giudizio Confezione
Qualità Audio:

65

Qualità Artwork:

65

Originalità:

65

Tecnica:

75
Recensione di
carnival creation

»
pubblicata il --. Articolo letto
1559
volte.
Articoli Correlati