Hell In The Club «Let The Games Begin» (2010)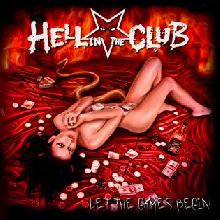 Autore:
fabio HC

»
Recensione Pubblicata il:
--
Visualizzazioni:
2169
Band:
Hell In The Club




Titolo:
Let The Games Begin
Nazione:
Italia
Formazione:
Dave - Voce
Andy - Basso
Fede - Batteria
Picco - Chitarra
Genere:
Durata:
45' 22"
Formato:
CD
Data di Uscita:
2010
Etichetta:
Distribuzione:
---
Agenzia di Promozione:
---
Recensione
Ecco arrivare alla redazione di Metalwave il primo full-length degli Hell In The Club, atteso da molti. La formazione alessandrina prende forma grazie all'unione di due note formazioni nostrane, gli Elvenking e i Secret Sphere, e si discosta dal genere proposto dalle band d'origine per sfoggiare un vero rock'n roll style.
Il disco si presenta molto bene, con al microfono la bella voce "americana" di Dave, il quale mastica bene l'inglese rendendolo ben comprensibile.
Musicalmente sono molto progrediti, la ritmica non è mai banale e la velocità si fa sentire, segno di una vera professionalità ed esperienza con ogni strumento. Le parti a chitarra riecheggiano infatti riffs già suonati ma sicuramente non copiati, mentre la batteria scandisce tempi propri del rock'n roll anni '80, stile Twisted Sisters e affini.
Ogni traccia delle dodici che compongono il disco è degna di nota, in quanto suonano leggere, melodiche senza esagerare, e quasi ballabili; tra queste spadroneggiano però "Natural Born Rockers" (accattivante già dal titolo) e la settima traccia "Raise Your Drinkin' Glass", forse quella dal suono più commerciale delle altre, ma divertente soprattutto grazie al coro nel refrain.
Dall'aspetto più romantico è "Star", lenta e con un solo coi fiocchi, in grado di portare un po' d'amore nei cuori degli ascoltatori più intransigenti.
La registrazione è perfetta, non è stato tralasciato niente, anche il basso fa la sua parte insieme al resto degli strumenti.
Molto bene quindi per questi ragazzi, i quali hanno voluto tornare a suonare quel genere che non smetterà mai di martoriare le nostre orecchie, che non diventerà mai banale grazie a gruppi come loro. Spero solo che in futuro non suonino un rock'n roll troppo commerciale, perchè anche se il disco ne risente in minima parte, ne risente comunque. Ma per il momento consiglio a coloro che leggeranno questa recensione di appropriarsi del disco, indipendentemente dal genere prediletto, perchè ne vale la pena.
Track by Track
Never Turn My Back

70

Rock Down This Place

75

On the Road

70

Natural Born Rockers

80

Since You're Not Here

70

Another Saturday Night

70

Raise Your Drinkin' Glass

80

No Appreciation

75

Forbidden Fruit

65

Star

70

Daydream Boulevard

70

Don't Throw In the Towel

70
Giudizio Confezione
Qualità Audio:

75

Qualità Artwork:

75

Originalità:

70

Tecnica:

80
Recensione di
fabio HC

»
pubblicata il --. Articolo letto
2169
volte.
Articoli Correlati